La guerra de Vietnam es uno de los eventos más traumáticos en la historia estadounidense, pues dividió a los Estados Unidos como no lo habían estado desde la guerra civil. A nivel académico, el conflicto indochino ha captado la atención de un buen número de historiadores, políticos científicos, sociólogos, entre otros. Entre sus principales analistas podríamos mencionar a Gabriel Kolko, Robert Buzzanco, George C. Herring, Fredrik Logewall, David Kaiser, Mark Bowden, Mark Philip Bradley, Robert K. Brigham, William J. Duiker, Christopher Goscha, David S. Marr, Sophie Quinn-Judge, lya Gaiduk, Chen Jian, Qiang Zhai y Neil Sheehan.
En esta reseña, el historiador Paul Buhle analiza dos libros recientemente publicados que enfocan la resistencia de quienes se negaron a ir a pelear a Vietnam: desertores, prisioneros de guerra y objetores. Se trata del libro de Paul Bendikt Glatz,  Vietnam's Prodigal Heroes: American Deserters, International Protest, European Exile, and Amnesty. (Lexington Books, 2021) y del trabajo de Tom Wilbur y Jerry Lembke, Dissenting POWs: From Vietnam's Hao Lo Prison to America Today. (Monthly Review Press, 2021).
---
Alabados sean los que se negaron a matar
The Progressiv Magazine  7 de setiembre de 2021
Hubiera sido bueno tener libros como estos en nuestras manos hace medio siglo, cuando la derrota de los Estados Unidos en Vietnam se había hecho clara, y la derecha política (pero también el centro, los republicanos y demócratas de línea dura por igual) tildaron a los pacifistas como traidores a las tropas y a la nación. Que las propias tropas se habían vuelto contra la guerra era el mejor o, mejor dicho, el peor secreto guardado del día.
Los posibles reclutas, incluido quien reseña, tenían tres opciones obvias: aceptar el reclutamiento; negarse y ser amenazado con prisión; o ir al extranjero, muy probablemente a Canadá. Aquellos que necesitaban huir de los militares recibían, con frecuencia, ayuda en Europa, donde la guerra era muy impopular. Pero existía otra categoría: prisioneros de guerra en Vietnam que se dieron cuenta de que la guerra estaba claramente equivocada y querían dar a conocer su descubrimiento en los medios de comunicación, se atrevieran estos a hacerlo o no.
Esta última categoría es especialmente fascinante, sin duda porque la derecha ha creado banderas y carteles, eventos pseudopatrióticos, campañas políticas y mucho más en nombre del tema de los prisioneros de guerra y los MIA. El estatus heroico orquestado del difunto senador John McCain personificó esta causa. Incluso los críticos de la guerra, al menos dentro del Congreso, se sintieron obligados a llamar a McCain un "héroe nacional", cuando algunos de sus compañeros militares eran más propensos a pensar en él como un "perro caliente" y un barco de exhibición que anhelaba emociones y recompensas contra la lógica de la seguridad.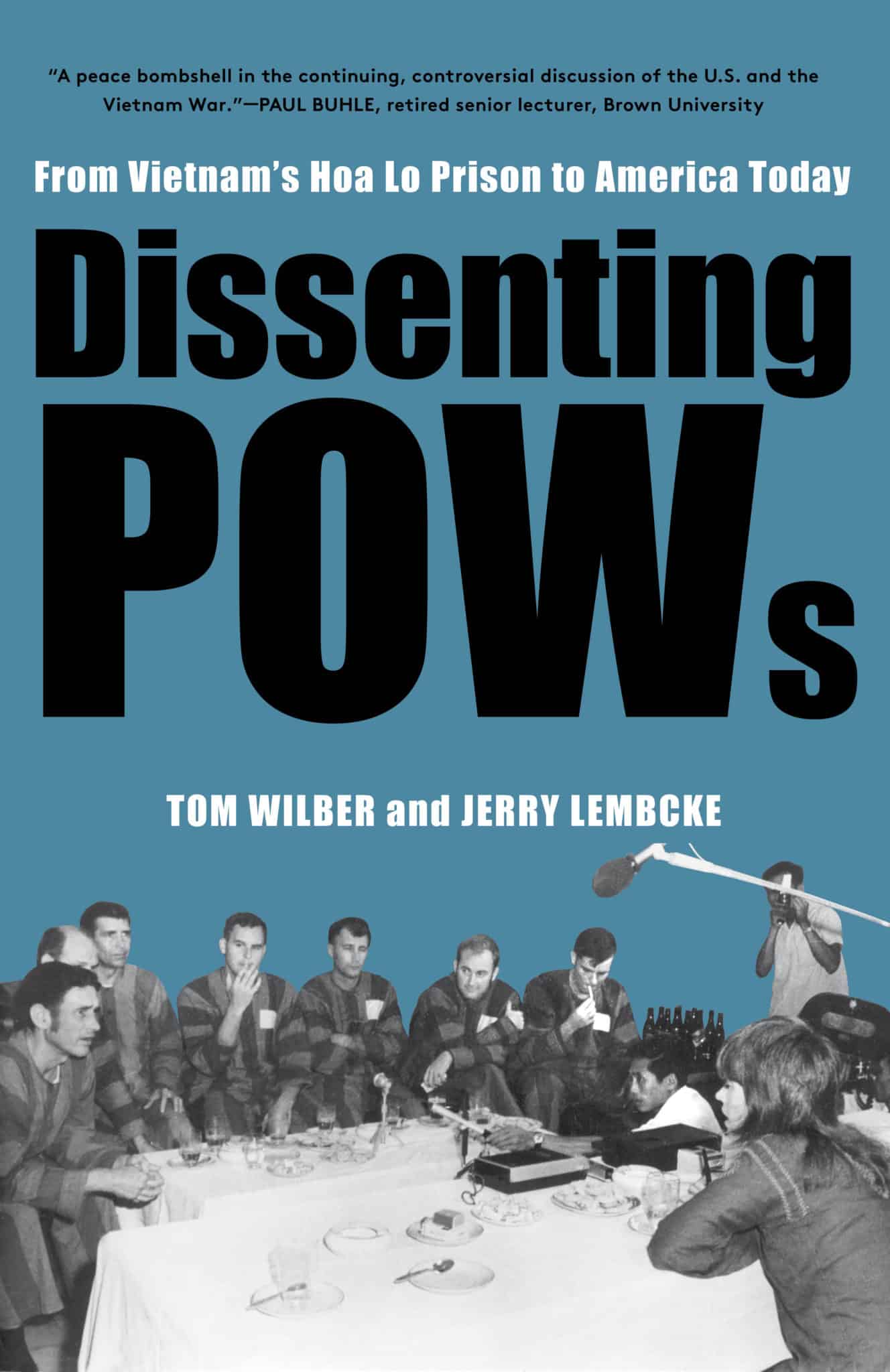 Jerry Lembke, quien coescribió Dissenting POWs  con Tom Wilbur, es bien conocido por desacreditar el mito de los "manifestantes escupiendo" a los GI que regresan en aeropuertos u otros lugares públicos con un desprecio lleno de flema. Estos eventos nunca tuvieron lugar, y no pudieron ser documentados. Wilbur, su colaborador, es hijo de un prisionero de guerra, que ha trabajado como académico y miembro del personal de una ONG en Vietnam.
Los autores señalan que la historia de los prisioneros de guerra contra la guerra se ha pasado por alto en gran medida, si no por completo. Algunos de los episodios dramáticos y cómicamente poco dramáticos incluyen una fallida incursión estadounidense en el Son Tây en Vietnam del Norte. Al igual que el éxito imaginado, los héroes imaginados allí, como John McCain, fueron fuertemente mitificados.
Curiosamente, a medida que avanzaba la guerra y aumentaban las protestas en el campus universitarios o la comunidad, los pilotos capturados y otros tenían más probabilidades de tener el pelo largo y simpatía por los pacifistas (es decir, dudaban de sus asignaciones). Las visitas de delegados estadounidenses izquierdistas y liberales a Vietnam aumentaron la sensación de incredulidad. Pero también lo hizo la atención médica a los prisioneros, cuando se supo, que era excelente para los estándares de lo que se podía hacer en las circunstancias.
"Entre un tercio y la mitad de los prisioneros de guerra estaban desilusionados con la guerra en 1971", dicen los autores, entonces las explicaciones oficiales, ampliamente vistas en los medios de comunicación, tuvieron que atribuir estas actitudes al "lavado de cerebro", un término que se difundió por primera vez durante la Guerra de Corea. En realidad, la guerra entre oficiales y soldados rasos había superado el conflicto entre los prisioneros y sus cuidadores,  según muchos relatos.
Gran parte del libro examina cuidadosamente a un puñado de estos hombres desilusionados, uno por uno, mientras el Pentágono trataba de callarlos de una manera u otra. Los antojos de los altos mandos militares por los consejos de guerra se desmoronaron porque provocar publicidad negativa. Al final, aquellos que hablaron desde su conciencia tuvieron un papel noble y notable en la historia.
La amnesia se instaló en Hollywood. Lo que los autores llaman películas de "pow-rescue and MIA-recovery", como la serie Rambo,  fueron hiladas con la misma tela que la notoria bandera POW-MIA y la comercialización pesada de varios otros proyectos. Al final del libro, los autores citan a figuras heroicas como  Ann Wright  y Pat Tilman como sucesores de los valientes disidentes, planteando objeciones abiertamente desde la experiencia de sus propias vidas militares.
El libro Vietnam's Prodigal Heroes cubre mucho espacio, desde la primera aparición de desertores hasta su tan esperada reivindicación. Es, como  Dissenting POWs, un libro de memoria, tanto perdida como restaurada.
Este libro es inusual por su examen minucioso de la prensa europea, donde la maquinaria de propaganda del Departamento de Estado se debilitó y casi se derrumbó bajo la realidad de la deserción. Se registraron al menos medio millón de casos de "ausencias no autorizadas", y para 1971, una tasa de 73,5 "ausencias" por cada mil soldados insinuaba la desilusión que existía entre las tropas.
En comparación con la guerra de Corea, que en realidad fue impopular pero como se peleó en medio de la Guerra Fría no enfrentó oposición de los reclutas, el "fenómeno del desertor" surgió en el contexto de los desafíos del movimiento de derechos civiles al racismo, la nueva cultura popular de permisividad y pacifista, y sobre todo la pura impopularidad de la invasión estadounidense de Vietnam.
Es francamente emocionante leer sobre el santuario que se ofreció a los soldados en Francia y Suecia, así como el trabajo de organización de activistas franceses y estadounidenses en el extranjero para alentarlos a ellos y a otros, con todo, desde información hasta vivienda. En otros lugares, como en Alemania, la oposición popular al esfuerzo de Estados Unidos también se convirtió en una estrategia importante de la izquierda, haciendo retroceder la lealtad a la OTAN de los principales partidos políticos. Los "Cuatro Intrépidos", desertores que se presentaron en la Unión Soviética, llegaron a los titulares, a menudo en forma de titulares de ataque de The New York Times y otros medios estadounidenses que buscaban desacreditarlos.
El papel del desertor creció naturalmente junto con la impopularidad de la guerra. El Departamento de Estado y la CIA inventaron formas de socavar la seguridad de los desertores y los resistentes al reclutamiento. Se hicieron intentos frenéticos de dividirlos en categorías "confusas" y "desleales". Los activistas de apoyo legal en los Estados Unidos buscaron ayudar, y se formaron nuevos grupos como el National Black Antiwar Antidraft Union. En el frente político europeo, los socialdemócratas suecos arrasaron con una victoria electoral gracias en gran medida a los jóvenes votantes atraídos por la postura antibélica del partido.
El  Deserter Activism (activismo desertor) sacudió a los funcionarios estadounidenses que buscaban usar todos los medios de retribución. Por otro lado, a los desertores les resultaba difícil adaptarse a la vida en el exilio, especialmente en aquellos años en que el inglés no era tan fácilmente hablado por los locales. Nuevas instituciones de ayuda, incluido el Proyecto de Exilio Americano, buscaron llenar el vacío y, a la larga, ayudaron a establecer las bases para una especie de reconciliación, permitiendo a la mayoría de los estadounidenses regresar a casa sin amenaza de arresto.
Al final, el Proyecto de Amnistía encontró un camino a seguir. Los Senadores Eugene McCarthy y George McGovern dieron su bendición a una amnistía, pero Hubert Humphrey representó fielmente a la corriente liberal al rechazar esta solución. El indulto de Gerald Ford al presidente Nixon puede haber cambiado el rumbo de la opinión pública, o tal vez fue el paso del tiempo lo que llevó a Jimmy Carter a emitir el perdón general.
Desafortunadamente, este indulto negó los beneficios de  veteranos a los desertores, limitando sus oportunidades de muchas maneras. Al centrarse en una distinción entre los delincuentes reclutados (que recibieron el perdón completo) y los delincuentes militares (que no lo hicieron), Carter reforzó las líneas de clase y color que siempre habían estado en el corazón de la Guerra Fría.
Este último elemento explica que no hubiera un final feliz para una historia que implica no solo un gran coraje personal, sino también el trabajo dedicado de miles de activistas por la paz.
Traducido por Norberto Barreto Velázquez