Comparto con mis lectores  las  reseñas de dos películas  y un documental publicadas en el seminario puertorriqueño Claridad, que recogen, como bien señala su autora, el papel que han jugado las instituciones policiacas del gobierno estadounidense en la persecución de las minorías raciales en los Estados Unidos. El primero de los largos metraje, Judas and the Black Messiah, enfoca el asesinato por la policia de Chicago -en contubernio con el FBI- del joven líder de las Panteras Negras Fred Hampton. La segunda película, titulada The United States vs. Billie Holiday, es una producción  del servicio de suscripción  de vídeo Hulu. Dirigida por Lee Daniels, este largo metraje recoje la historia de la gran cantante afroamericana Billie Holiday y de los problemas que enfrentó con el Buró Antinarcóticos. El documental reseñado (MLK/FBI) retrata la persución   del FBI  contra el Dr. Martín Luther King. Para quienes gustamos del cine, y en particular del cine histórico, estas reseñas no podrán menos que despertar nuestra curiosidad por estas películas que parecen estar destinadas a convertirse en clásicos y documentos de una era muy difícil en la historia de Estados Unidos.
Norberto Barreto Velázquez
Lima, 16 de abril de 2021
---
María Cristina
Claridad    16 de abril de 2021
A pesar de que creo que Mississippi Burning (Alan Parker 1988) es un excelente filme que catalogo como político por centrarse en la irracional segregación sureña de los Estados Unidos, entiendo que la manera de presentar el FBI es lo más alejado de la verdad en ese tiempo y antes y después. Aunque Judas and the Black Messiah, MLK/FBI  y The United States vs. Billie Holiday enfocan en la persecución de la población afroamericana, el historial de esta agencia se extiende a cualquier grupo que ellos consideren ser una amenaza contra el gobierno de los Estados Unidos y a cualquier persona que exprese ideas "comunistas" según definido por ellos. A pesar del secreteo que siempre ha caracterizado al FBI, poco a poco han circulado documentos oficiales que revelan la intensidad de su carpeteo y acciones para poner fin, de una manera (desprestigiando) u otra (asesinato). Estos tres filmes son ejemplos de ello.
Judas and the Black Messiah 
Director: Shaka King; guionistas: Will Berson y Shaka King; cinematógrafo: Sean Bobbitt
Uno de los muchos aciertos de este filme—aparte de su temática—es que la recreación de época se presenta dentro de una realidad que capta la efervescencia de la década de los 1960 con toda su normalidad que puede ser agrupaciones de jóvenes entusiasmados por cambiar sus circunstancias, pero especialmente el mundo heredado y la sociedad que los reprime. Señalo esto porque a pesar de ser un proyecto muy prometedor, los cinco filmes del británico-caribeño Steve McQueen agrupados bajo el título Small Axe, intentan, pero no logran, ese sentido de urgencia de la época de turbulencia de la generación Windrushen el Reino Unido. Judas and the Black Messiahnos permite ser parte del momento, ver las maquinaciones del FBI, la utilización de un infiltrado (Bill O'Neal) para desprestigiar y, cuando esto no funciona, asesinar al joven Fred Hampton (1948-1969), líder de los Black Panthers en Chicago.
Shaka King, director, coguionista y coproductor, muy astutamente enfoca en una sola etapa de la muy corta vida de Hampton (excelentemente interpretado por el británico Daniel Kaluuya): su ascenso a presidir la seccional de los Black Panthers en Illinois, la intensidad de su persecución de parte del FBI y su asesinato. Se dan tres episodios simultáneamente: el reclutamiento e infiltración de O'Neal (LaKeith Stanfield) y sus constantes dudas de si el dinero y la protección que recibe de la agencia valida su traición; el centralismo de Hampton en la lucha por una unidad de grupos y una línea de acción conjunta; el montaje del FBI para poner fin a lo que ellos mismos han fabricado como amenaza al gobierno establecido. Aunque conocemos lo sucedido (además de lo que recientemente se ha descubierto de las acciones del FBI), la historia personal y colectiva nos ofrece una esperanza de que la posibilidad del cambio existe. Por eso lo que queda en nuestra memoria son los esfuerzos de Hampton por crear el Rainbow Coalition y unir organizaciones políticas multiculturales como Black Panthers, Young Patriots y los Young Lords junto al apoyo de gangas rivales de Chicago para trabajar por cambios sociales dentro de las comunidades pobres y marginadas.
MLK/FBI
Director: Sam Pollard 2020
Edgar Hoover ha sido a través de los años una figura casi mítica por su malicia, astucia y persistencia en perseguir a cualquier persona o grupo que concibiera como enemigo de los Estados Unidos. Esa lista incluye a cualquier disidente de su propia definición de la ley y el orden. Además, parece obsesivo con sostener su versión de los que es la fibra moral—una versión fundamentalista de la sexualidad que no aplica a él—de los Estados Unidos que hace a este país mejor que cualquiera. Es su acumulación de poder lo que le permite violar precisamente los derechos humanos en los que se basa la Constitución de este país. Para él los derechos y la justicia sólo aplican a los "true Americans" lo que excluye a todos los que no provengan de la Europa blanca. Y si dentro de comunidades de descendencia italiana, irlandesa, judía y otros grupos étnicos favorecidos se desarrollan grupos activistas cuyo fin sea cambiar/alterar el gobierno actual, serán perseguidos de igual manera. Los estudiantes universitarios en contra de la Guerra de Vietnam, los grupos urbanos de jóvenes que abogaban por igual trato y derechos, los grupos religiosos y laicos que marchaban por la igualdad de derechos fueron fichados y perseguidos por unidades creadas específicamente para sabotear todas sus acciones. Martin Luther King se convirtió en un obsesivo objetivo para Hoover como demuestra este documental.
La historia que se presenta cubre de 1955 a 1968 y traza el inicio y el ascenso de Martin Luther King como activista de los derechos civiles y uno de los líderes más carismáticos, conocedores y determinados de conseguir la igualdad para toda la población de los Estados Unidos. Lo que Hoover consideraba sublevación, MLK y los integrantes de estos movimientos lo entendían como libertad y justicia para todxs. Nadie estaba exento de ser vigilado, acusado y encarcelado tanto por la policía local como por los agentes federales. Todxs tenían conocimiento de esto, aunque no supieran la extensión de esa persecución. Con excelente pietaje que cubre estos años, con archivos que ahora son públicos, con entrevistas con allegados a MLK y ex agentes del FBI, el documental cuestiona la veracidad de los documentos expuestos y, especialmente, los todavía protegidos bajo "Archivos privados de J. Edgar Hoover" y la gran pregunta de ¿cómo fue posible que con la vigilancia extrema que le tenían a MLK, no supieran de antemano que esa persona lo iba a asesinar en el balcón de la habitación del motel Lorraine en Memphis, Tennessee el 4 de abril de 1968? Con su muerte, el FBI cierra su archivo y toda la supuesta evidencia que tenían, para en algún momento utilizar en su contra, queda en ese infame archivo privado de Hoover.
The United States vs. Billie Holiday
Director: Lee Daniels; guionista: Suzan-Lori Parks; autora: Johann Hari; cinematógrafo: Andrew Dunn.
La recreación de época y la maravillosa voz de Andra Day interpretando las canciones que Billie Holiday hizo famosas son los puntos excepcionales de este filme. Es una pena que la historia sobre esta etapa de la vida de Holiday, especialmente desde finales de la década de 1940 hasta su muerte por cirrosis entre otros desgastes de salud, no tenga una narrativa coherente y compleja como debe ser la presentación de personajes en literatura o cine. Holiday aparece como una mujer con una voz única en el mundo musical del momento, pero lo que se enfatiza es cómo su alcoholismo, adicción a drogas y su impotencia de alejarse de relaciones destructivas y abusivas la convierten en una víctima. Su grupo de amigos la cuidan, complacen, aconsejan cuando ella se los permite, pero a fin de cuenta Holiday los echa a un lado para seguir a los hombres que se enriquecerán de su talento sin importarle el daño que le puedan hacer.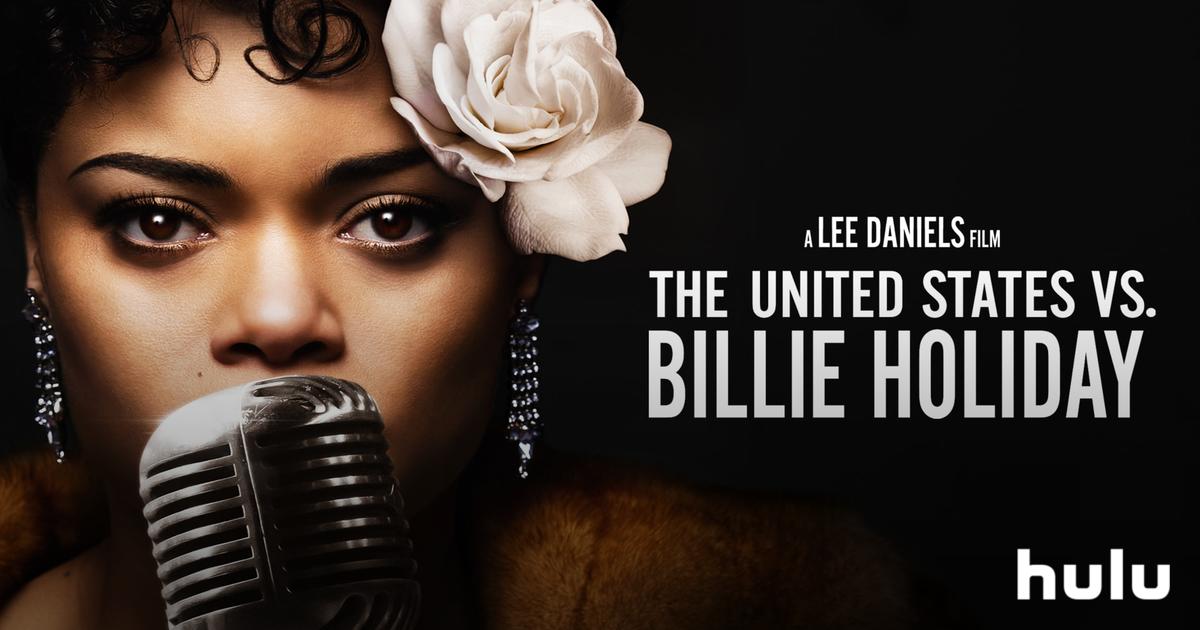 Desarrollar la historia a través de un romance al principio imaginario y luego dañino entre Holiday y el agente del FBI (encubierto y descubierto), Jimmy Fletcher (Trevante Rhodes), es bastante dudoso porque requiere entrampar a la mujer que supuestamente admira tanto. Además, Fletcher se presenta como un tipo que quiere hacer bien su trabajo, que cree que ser parte del FBI es una forma de ser parte del centro de poder, pero que supuestamente deplora a tipos como Harry Anslinger (Garrett Hedlund), el encargado de entrampar y arruinar la vida de Holiday. Por su parte, se presenta a Holiday con poca información de su pasado y de cómo llega a ser tan admirada y a tener tantos seguidores que logra llenar la sala de espectáculos más importante de Nueva York, Carnegie Hall. Lo que lxs espectadores vemos es una mujer talentosa, pero determinada a acabar con su vida con relaciones tan dañinas que no hay marcha atrás. A pesar de las fallas del filme Lady Sings the Blues (Sidney Furie 1972) por enfocar primordialmente en su adicción a drogas, protagonizado por Diana Ross, aquí sí hay un desarrollo de personaje que capta todas sus contradicciones.