Comparto con mis lectores este interesante capítulo del libro de la historiadora Josefina L. Martínez, ¡No somos esclavas! Huelgas de mujeres trabajadoras, ayer y hoy . Esta obra analiza el papel que han jugado las mujeres en el desarrollo del movimiento obrero y, en especial, en huelgas a nivel global. En el caso específico del capítulo que comparto, Martínez enfoca una huelga en Lawrence (Massachussets) llevada a cabo en marzo de 1912. Aquellos interesados en la historia obrera, de género y de la intersección entre ambas, podrían encontrar muy útil este capítulo.
---
Josefina L. Martínez
Ctxt.com     16/01/2021
Desde que comenzó la pandemia hemos visto en varios países la irrupción de luchas de mujeres trabajadoras cruzadas por la explotación y los agravios del racismo y las migraciones. El grito de las jornaleras contra los abusos en el campo, la protesta de las enfermeras y limpiadoras en los hospitales, las trabajadoras del hogar contra la esclavitud moderna o las vecinas autoorganizadas para frenar los desahucios. Estas experiencias muestran la potencialidad de apostar por la construcción de un feminismo de clase, alejado tanto del punitivismo moralista de las disputas en redes sociales como de los techos de cristal del feminismo meritocrático.
El libro ¡No somos esclavas! Huelgas de mujeres trabajadoras, ayer y hoy recupera algunas de estas luchas, sus dolores y también sus deseos de emancipación. Pero el hilo rojo y morado que entrevera género y clase no comienza hoy. Por eso la primera parte está dedicada a huelgas de mujeres en la historia: la huelga de Pan y Rosas en 1912 en EE.UU., la revuelta de las mujeres contra el aumento de los precios en Barcelona, Málaga y Alicante en 1918, las huelgas de las inquilinas en las primeras décadas del siglo XX o las luchas de las trabajadoras textiles contra el Corte Inglés en la Transición española. Varios capítulos están basados en artículos publicados en los últimos años en CTXT, ahora reeditados, junto con historias nuevas. Para la publicación del libro, ilustrado por Emma Gascó, se ha lanzado una campaña de crowdfunding en Verkami. Presentamos aquí, como adelanto editorial, el capítulo sobre la huelga de Pan y Rosas, una de las más importantes de la historia de la clase obrera en Estados Unidos. Protagonizada por decenas de miles de trabajadoras textiles, jóvenes, inmigrantes y precarias, se desarrolló en Lawrence entre el 11 de enero y el 14 de marzo de 1912.
La mañana del 11 de enero el frío cortaba la respiración en Lawrence, Massachusetts. Antes de las 6 de la mañana, miles de bocas tragaron pequeños trozos de pan en cocinas oscuras, las mujeres alimentaron a los niños y se calzaron los abrigos. Minutos después, los portales escupían figuras que se multiplicaban al doblar la esquina; polleras, sombreros y botines cruzaban puentes y aceleraban el paso, mientras el humo de las chimeneas y el chillido de los silbatos indicaba el camino de tan temprana procesión. El torrente se precipitaba por calles y avenidas, bifurcándose en los portones de cada fábrica: la Everett Mills, la Pacific Mills, la Washington Mills, unas 30 en total. Lawrence abría sus fauces, enormes mandíbulas mecánicas, trituradoras de ladrillo y metal, para engullir esa masa de carne y nervios, músculos y cerebros. En cada taller, los hilos se tensaban y los brazos se acoplaban a las máquinas, iniciando el traqueteo infernal que iba a martillear los tímpanos durante 10 horas.
La ciudad había sido fundada en 1845 por la Asociación de empresarios de Boston en un lote de tierras despobladas de Nueva Inglaterra. Abbot Lawrence la había imaginado como un modelo ideal de laboriosidad y puritanismo donde las jóvenes solo se ocuparían unos años en la confección, hasta que llegara la edad de casarse y estuvieran listas para engendrar hijos devotos. Cuarenta años después, las 'chicas de Lawrence' seguían trabajando con la espalda doblada 14 horas al día en talleres mugrientos, pariendo hijos que entraban a trabajar antes de tener un solo pelo en la caraHacia 1910, Lawrence se transformó en uno de los centros de la industria textil norteamericana –sus fábricas procesaban el 25% del total del tejido de lana en Estados Unidos–, una urbe de casi 86.000 habitantes, en su mayoría trabajadores y trabajadoras no cualificadas que llegaban en oleadas desde el sur de Italia, Polonia, Lituania, Grecia, Francia, Bélgica, Alemania y Rusia para abastecer la creciente demanda de mano de obra. En su Informe sobre la huelga de los trabajadores textiles de Lawrence de 1912, el Gobierno Federal indicaba que al menos la mitad de la población mayor de 14 años se ocupaba en la industria textil de lana y algodón y más del 80% de la población era extranjera.
Ese día invernal, sin embargo, debajo de la rutina aparente, circulaba una potente corriente subterránea, una tensión que se transmitía en las miradas, en frases intercambiadas en diferentes lenguas, en rostros endurecidos. Las polacas fueron las primeras. 200 mujeres que, al recibir la paga semanal y comprobar que les habían bajado el salario, estallaron con furia y pararon la producción. Bajaron los brazos y con esa declaración de inmovilidad, dejando caer hilos y agujas, condenaron a las máquinas a su impotencia de cacharros sin alma. Con ese gesto, iniciaron una huelga que iba a ser imparable.  Short Pay, short pay! All out! ¡Menos salario, todas afuera! Durante 63 días, trabajadoras y trabajadores inmigrantes sostuvieron una huelga que desafió a las corporaciones textiles más importantes de Estados Unidos, enfrentó a los gobiernos, a la policía y la milicia armada, a los medios de comunicación conservadores y al clero reaccionario, hasta conseguir un triunfo.
La lucha tuvo varios hitos: la creación de un comité de huelga, con 56 miembros, donde estaban representadas más de veinte comunidades étnicas y nacionales; la organización de cocinas populares que garantizaron dos comidas diarias a miles de huelguistas y sus familias; una caja de resistencia que recibió aportes desde todo el país; los piquetes móviles de las mujeres para burlar a la policía. Y lo que quizás sea el evento más conocido: el "éxodo de los niños", cuando las trabajadoras enviaron en tren a cientos de sus hijos hacia otras ciudades, para ser alimentados y cuidados por familias solidarias durante la huelga.
Al parecer, los días previos al 11 de enero ya había circulado el rumor de la huelga en varios idiomas. El disparador fue una reducción salarial de unos pocos centavos en las nóminas. Una ley reciente establecía la reducción de la jornada laboral para mujeres y menores de edad, que debía pasar de 56 a 54 horas semanales. Y como en la industria textil la mayoría eran mujeres, tenía un gran impacto en la ciudad. Los empresarios aceptaron recortar la jornada de trabajo, pero a cambio redujeron también los salarios, no pensaban perder ni un céntimo en esta operación.
20 centavos equivalían a varias barras de pan, pero fue mucho más que eso lo que desencadenó el conflicto. Según la Comisión del Trabajo de Massachusetts, el salario mínimo que necesitaba una familia obrera para sobrevivir era de 8,28 dólares por semana, mientras un tercio de los hogares cobraba por debajo de esa cifra, menos de siete dólares. Por un piso con tres piezas, se pagaba entre dos y tres dólares semanales; el salario no alcanzaba. Si eras abogado o cura, tenías una esperanza de vida de 64 años, pero si eras una trabajadora textil, con suerte podías superar los 40 años. Eran frecuentes las enfermedades respiratorias, provocadas por la inhalación de partículas de algodón y productos tóxicos. A esto se sumaba un récord nacional de accidentes laborales: brazos amputados, dedos arrancados, piernas machacadas. La pujante industria norteamericana se alimentaba de sangre fresca, y no era una metáfora.
Cuando se supo que las polacas habían bloqueado la producción, miles de trabajadoras se reunieron espontáneamente fuera de las plantas, gritando: "¡Todas afuera!". En minutos, una lluvia de piedras y trozos de hielo volaron hacia las ventanas, una buena forma de llamar la atención de quienes todavía dudaban. Al día siguiente, las trabajadoras se dirigieron al salón de la asociación franco-belga, constituyeron el comité de huelga y pidieron ayuda a la IWW (Industrial Workers of the World). Este era un sindicato militante y combativo que, a diferencia de la conservadora central AFL, organizaba a los trabajadores no cualificados, los más precarios, los afroamericanos y las mujeres. La IWW enviaba a sus mejores organizadores, los wobblys, a todos los puntos del país para apoyar las huelgas y organizar las cajas de resistencia.
Enseguida, el comité de huelga lanzó un mensaje a las trabajadoras y trabajadores de Lawrence: "Ahora que la asociación de los capitalistas ha mostrado la unidad de todos nuestros adversarios, os llamamos como hermanos y hermanas a unir vuestras manos junto con nosotros en este gran movimiento. Nuestra causa es justa… Trabajadores y trabajadoras, dejad vuestros martillos, tirad vuestras herramientas, dejad que las máquinas se paren, que la energía deje de hacer girar las ruedas y los telares, dejad la maquinaria, apagad los fuegos, paralizad las plantas, paralizad la ciudad".
Las investigadoras Anne F. Mattina y Domenique Ciavattone señalan que los tres ingredientes claves para el triunfo de la huelga fueron el papel de la IWW, las redes de solidaridad creadas por las organizaciones nacionales de inmigrantes y el activismo militante de las mujeres obreras.
Elizabeth Gurley Flinn fue una de las principales organizadoras de la huelga. La 'Chica Rebelde', como se la conocía popularmente, tenía 21 años cuando llegó a Lawrence, enviada por la IWW. Hija de socialistas irlandeses, militaba desde muy joven. Durante la huelga de Lawrence, organizó reuniones especiales para las mujeres, tomando en cuenta las dificultades que tenían para organizarse. Lo explicaba así: "Las mujeres querían hacer piquetes. Eran huelguistas, tanto como esposas y valientes luchadoras". Otra organizadora destacada era Annie Walzenback, de 34 años. Había ingresado en las fábricas textiles cuando tenía 14. Hablaba inglés, alemán, polaco y yiddish. Era una agitadora y organizadora de los piquetes diarios, junto a sus dos hermanas. Se dice que una noche, 2.000 mujeres la acompañaron hasta su casa después de una manifestación, solo para asegurarse de que llegara bien y no fuera detenida por la policía, que la tenía fichada. Finalmente, la noche del 15 de febrero fue trasladada directamente desde su cama a la cárcel por las fuerzas policiales.
El papel de estos experimentados organizadores y organizadoras de la IWW fue fundamental para la lucha que sacudió a Lawrence, pero la fuerza de propulsión brotaba de la rebelión de las trabajadoras inmigrantes. Esas mujeres jugaron un papel crucial por su presencia en múltiples espacios: en las fábricas, en los piquetes callejeros y en los barrios. Allí mantenían redes, tejidas durante años, cuando intercambiaban con sus vecinas un poco de comida o se ayudaban para cuidar a los niños. Durante la huelga, aquellos contactos permitieron que la información diaria circulara de casa en casa, en tiempos en que no había redes sociales ni teléfonos móviles.
Tan solo un año antes, muchas trabajadoras habían comentado entre ellas, con los ojos llenos de rabia y dolor, los acontecimientos ocurridos en la fábrica Triangle Shirwaist de Nueva York, cuando un incendio causó la muerte de 146 trabajadoras. Cuando comenzó ese incendio, las operarias que estaban en el octavo piso pudieron escapar, pero en el noveno las mujeres se dieron cuenta demasiado tarde de lo que ocurría. 50 trabajadoras se lanzaron por las ventanas huyendo del humo abrasador y murieron por el impacto: pájaros de fuego. Otras fueron aplastadas en las escaleras de incendio o en el hueco del ascensor. Y el resto murieron asfixiadas y quemadas. Todo esto ocurrió en menos de media hora. Una verdadera tragedia causada por la codicia patronal, que conmovió a la clase trabajadora de este a oeste. Días después, 400.000 personas marcharon en una procesión de homenaje a las mujeres de Triangle. En su mayoría, se trataba de jóvenes trabajadoras e inmigrantes, muy parecidas a las que unos meses después se lanzarían a la huelga en Massachusetts. Parecía como si todo ese dolor acumulado hubiera explotado en Lawrence, desatando la huelga.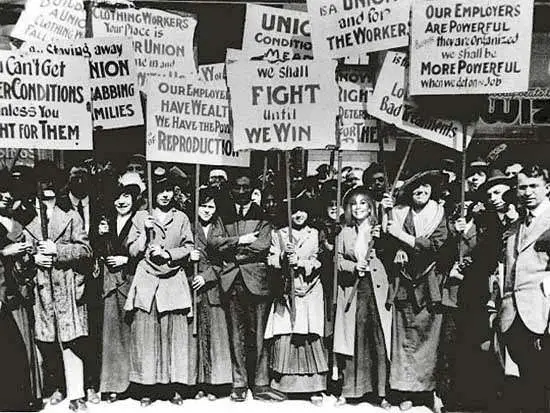 Los mítines multitudinarios se traducían en simultáneo a 30 idiomas, superando las divisiones étnicas y nacionales al interior de la clase obrera. Desde siempre, las patronales habían utilizado esas diferencias para enemistar a unos trabajadores contra otros, debilitando su fuerza colectiva. Pero ahora eso ya no funcionaba. Las mujeres descubrieron la táctica de formar piquetes móviles para desbordar a las fuerzas policiales y a las milicias armadas. Todos los días marchaban en largas cadenas humanas, con los brazos entrelazados, cortejos de miles de personas, cantando y gritando. Se cuenta que un grupo de mujeres italianas desarmó a un policía; entre varias le quitaron la placa, la porra y hasta los pantalones, antes de arrojarlo al río helado. Uno de los empresarios dijo, horrorizado, acerca de aquellas mujeres: "Tienen demasiada astucia y demasiado carácter. Están por todos lados, y se está poniendo cada vez peor". El intendente también dejó caer una frase que se hizo famosa: "Un policía puede controlar a diez hombres, mientras que hacen falta 10 policías para controlar a una sola mujer".
Durante la primera semana de huelga hubo una tormenta de nieve y la temperatura llegó a 10 grados bajo cero. El 15 de enero, miles de huelguistas montaron un piquete para impedir la entrada de rompehuelgas en las instalaciones de la Washington and Wood Mills. Cuando llegaron hasta la Prospect Mill, lanzaron piedras y bolas de hielo. Se dirigían hacia la Atlantic y Pacific Mills cuando la policía los interceptó, lanzando agua helada a los manifestantes con mangueras de apagar incendios.
"Pueden usar su manguera, pero se está encendiendo en el corazón de los trabajadores una llama de revuelta proletaria que ninguna manguera de incendios en el mundo puede apagar", declaró después Joseph Ettor. En los barrios, los panaderos polacos bajaron los precios para los huelguistas, mientras que los peluqueros se negaban a atender a los rompehuelgas. En las calles, miles de personas cruzaban miradas cómplices, se reconocían fácilmente porque llevaban insignias con el lema: "No seas rompehuelgas" o con las siglas de la IWW.
La represión y la batalla por la opinión pública
La jornada del 29 de enero fue un punto de inflexión. Ese día la policía asesinó a la trabajadora Anna LoPizzo durante una concentración y varios dirigentes de la huelga fueron detenidos.
La ofensiva represiva iba creciendo semana a semana. El alcalde Michael Scanlon había desplegado a la policía local, pero al tomar nota de la determinación de las huelguistas, el 15 de enero convocó a la milicia armada y llegó a declarar la ley marcial. Varios escuadrones de la milicia (antecesora de la Guardia Nacional) se establecieron en Lawrence, reforzados por la policía de Boston y francotiradores de los Marines.
Así trascurrían las semanas, las fuerzas se tensaban y las huelguistas no daban el brazo a torcer, a pesar del hambre y el frío. Pero lo que terminó de definir el futuro de la huelga fue el "éxodo de los niños" y la feroz represión. Entonces se logró ganar la batalla por la opinión pública. A principios de febrero apareció un aviso en el periódico socialista de Nueva York, The Call:
RECIBID A LOS NIÑOS
Los niños de Lawrence tienen hambre. Su padres y madres están luchando, pero el hambre puede romper la huelga. Estas mujeres y hombres están dispuestos a sufrir, pero no pueden ver el dolor de sus hijos o soportar sus llantos pidiendo comida. Se solicita a aquellos trabajadores y simpatizantes de la huelga que puedan acoger al hijo de un huelguista hasta que la huelga termine, que envíen con urgencia su nombre y domicilio al Call. Hacedlo de inmediato.
En pocas horas hubo cientos de llamados y cartas ofreciendo un lugar para los niños de Lawrence. La táctica se había inspirado en tradiciones de lucha del movimiento obrero europeo, a propuesta de varios activistas. En pocos días, la enfermera Margaret Sanger junto con Elizabeth Gurley Flinn y otros miembros del comité organizaron todo. Un primer grupo de 119 niños viajó a Nueva York el 10 de febrero. Un millar de personas recibió a los pequeños con euforia en la Estación Central. Cuando un segundo grupo llegó a Nueva York, el 17 de febrero, se organizó una manifestación. En las fotos vemos los pequeños rostros orgullosos. Una pancarta decía: "Piden pan, reciben bayonetas". La noticia seguía corriendo en toda la prensa nacional y otras ciudades también querían recibir a los niños de Lawrence. Su "éxodo" representaba todo lo humano de esta lucha contra la codicia de los empresarios. Y para tratar de frenar esa corriente de simpatía, el alcalde de Lawrence no tuvo mejor idea que prohibir los viajes de niños. Pero una nueva delegación de 200 pequeños ya estaba preparada para montar al tren, el 24 de febrero. Ese día, decenas de madres con sus hijos se dirigieron a la estación, donde se encontraron con un inmenso dispositivo policial.
Cuando el tren se acercaba a los andenes, las mujeres trataron de avanzar. Entonces llovieron los palos, golpes y empujones, la policía cargando contra mujeres y niños. –¡Tened cuidado con los niños, los estáis matando! –gritó Tema Camitta, del comité de solidaridad de Philadelphia. Minutos después, se produjeron más de 50 arrestos y una docena de niños fue trasladada en coches de la milicia. Una multitud de huelguistas se lanzó sobre ellos, muchos eran los padres desesperados buscando a sus hijos. Y la represión continuó.
El New York Times informó al día siguiente que para "desanimar cualquier intento de los huelguistas de rescatar a los niños, cuatro compañías de infantería y un escuadrón de caballería rodearon la estación de trenes". Lo que no sabían aquellas mujeres, cuando resistieron como leonas para que la policía no les arrancara de los brazos a sus pequeños, era que, en ese preciso instante, habían ganado la huelga. Después de la represión se produjo tal escándalo a nivel nacional, que los empresarios se vieron obligados a ceder. Pocos días después, una asamblea multitudinaria aprobó por aclamación el acuerdo alcanzado.