Las mujeres en la Compañía Pullman
Jstor Daily  22 de marzo de 2022
No podía dejar que acabara marzo, mes de las mujeres en Estados Unidos, sin dedicarla una entrada al mal llamado sexo débil. Comparto esta nota sobre el papel que jugaban las mujeres en las fábricas del magnate George M. Pullman.  Su autora, Sarah Buchmeier, obtuvo su doctorado en inglés en la Universidad de Illinois en Chicago y actualmente se desempeña como jefa de investigación  en el Pullman National Monument.
---
En 1880, George M. Pullman, un magnate del ferrocarril que había hecho su fortuna construyendo vagones de lujo, se embarcó en un nuevo experimento social: una ciudad (llamada así por él mismo) al sur de Chicago que albergaba una fábrica expansiva flanqueada por casas modernas y comodidades para sus trabajadores. Si sabes algo sobre la historia de Pullman, probablemente esté relacionado con la huelga de 1894, cuando miles de empleados de la fábrica detuvieron las operaciones durante casi tres meses e inspiraron un boicot nacional a los trenes Pullman orquestado por la Unión Ferroviaria Americana. O tal vez conozca a los Pullman Porters, los empleados afroamericanos que brindaban servicio a los pasajeros en los trenes, limpiando y reacomodando las literas para dormir, lustrando zapatos, llevando equipaje e incluso brindando entretenimiento aquí y allá. En 1925, formarían la Hermandad de Porteadores de Coches Cama y en 1937, se convertirían en el primer sindicato afroamericano en ganar un contrato con una gran corporación en los Estados Unidos.
Cuando se cuentan estas historias, se tiende a centrar en los hombres. Entre imágenes de carpinteros, pintores y herreros en huelga, líderes sindicales carismáticos como Eugene V. Debs y A. Philip Randolph; y porteadores bien vestidos, el trabajo de las mujeres en la compañía Pullman ha permanecido en gran medida invisible. Incluso el artículo de Almont Lindsey de 1939, que se centra particularmente en las formas en que el paternalismo guió el diseño y la gestión de la ciudad de la empresa, no tiene nada específico que decir sobre las mujeres Pullman. Y de alguna manera, eso es precisamente lo que Pullman hubiera querido. Pullman se resistió a contratar mujeres e hizo todo lo posible para mantener la atención alejada de las empleadas de la compañía. Por supuesto, desde el principio, las mujeres definieron y desafiaron el experimento social que fue Pullman.
En las tiendas
Como sugiere Douglas Pearson Hoover en su tesis "Women in TXIX Century Pullman", la ciudad fue planeada con la intención de que el papel principal de las mujeres fuera "criar a los hijos y criarlos en un aire de respetabilidad de clase media con el presupuesto de una familia de clase trabajadora". Las casas fueron diseñadas con el trabajo doméstico en mente: plomería interior, puntos de basura y una "disposición cubierta de tendederos" en la parte posterior. La escala peatonal del barrio hizo posible que los hombres almorzaran en casa y encontraran descanso en el entorno doméstico.
Pero las mujeres también formaban parte de las operaciones de la fábrica. En los primeros días, el puñado de mujeres que trabajaban en la fábrica eran costureras o grabadoras en el departamento de vidrio. Las costureras, que constituían la categoría más grande de empleadas en ese momento, fabricaban y reparaban todos los textiles utilizados en los automóviles Pullman: alfombras, cortinas, tapicería, ropa de cama, manteles y colchones. Ninguno de los otros más de 60 tipos de trabajo estaba abierto a las mujeres, aunque fuera de la ciudad, cientos de mujeres trabajaban para Pullman en lavanderías que estaban dispersas por todo el país. En 1885, señala Hoover, un desequilibrio de género en la población y los imperativos económicos de las familias de clase trabajadora obligaron a Pullman a ampliar las oportunidades para que las mujeres ganaran salarios dentro de la ciudad y la fábrica.
El objetivo era ofrecer a las mujeres un trabajo que estuviera en línea con un papel doméstico y "no interfiriera con sus deberes maternos primarios". Pullman centralizó las operaciones de lavandería y construyó una nueva instalación en Florence Boulevard (ahora 111th Street), donde en 1892, más de 100 mujeres lavaban "ropa de cama sucia, manteles y servilletas". En 1899, un artículo del Chicago Tribune se maravilló de las máquinas de lavandería que podían lavar y planchar "30,000 piezas en un día" y de las "mujeres jóvenes" que alimentaban piezas a través del vaso y el mangler, las doblaban y las ataban en paquetes. El libro enciclopédico de 1893, The Town of Pullman, describía la lavandería en términos aún más efusivos: una estructura "provista de todas las comodidades modernas para la comodidad de los empleados [sic]", habitaciones llenas de "chicas ocupadas, todas con gorras blancas y delantales blancos mientras atienden sus múltiples deberes" y ropa de cama impecablemente limpia que "cuando es manejada por las chicas,  [eran] dulces y limpios".
Las condiciones idealizadas de la lavandería ejemplifican lo que Lindsey postula como la visión particular de Pullman del paternalismo, un enfoque para mejorar las condiciones de las clases trabajadoras, no como filantropía, sino "como una propuesta de negocio que produciría dividendos … y crear una fuerza contenta y laboriosa de trabajadores calificados". Lindsey expone cuidadosamente las formas en que Pullman mantuvo un estricto control sobre las operaciones de la ciudad, así como su imagen pública, principalmente con agentes de la ciudad como Duane Doty, quien con frecuencia daba visitas a los visitantes para resaltar todos los beneficios de vivir y trabajar para Pullman.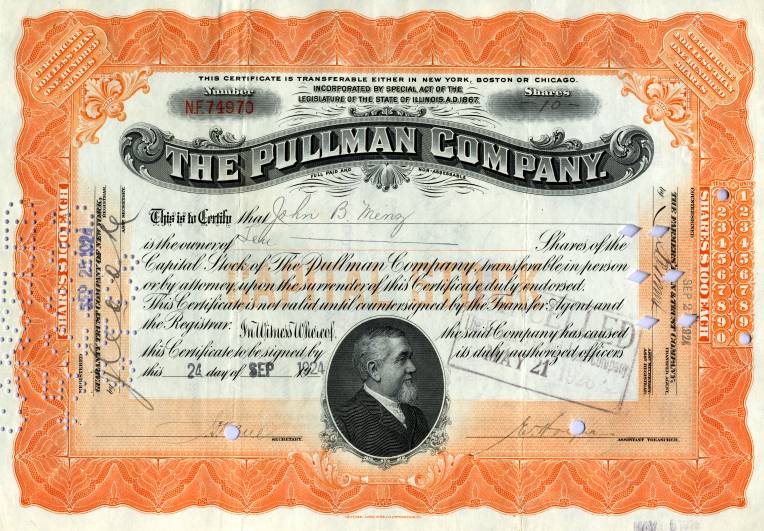 Durante la huelga de 1894, Pullman perdió el control, no sólo de sus trabajadores sino de la reputación de su ciudad. La huelga comenzó como respuesta a la negativa de la compañía a reducir los alquileres de las viviendas incluso después de meses de salarios y horas reducidas durante el pánico económico de 1893. Aunque la fuerza laboral abrumadoramente masculina de la compañía significaba que los huelguistas eran en su mayoría hombres, las mujeres que se unieron a la huelga desempeñaron un papel fundamental. Que las mujeres en Pullman fueran miembros del sindicato era en sí mismo inusual. Alice Kessler-Harris señala que, a finales del siglo XIX, las tasas de mujeres sindicalizadas eran mucho más bajas que las de los hombres, "algo así como el 3,3 por ciento de las mujeres que se dedicaban a ocupaciones industriales en 1900". Eso se debe en parte a que las mujeres en ese momento "eran trabajadoras jóvenes y temporales que miraban al matrimonio como una forma de escapar de la tienda o la fábrica" y en parte porque los hombres sindicalizados veían a las mujeres como sus competidoras más que sus aliados. Pero la recién formada Unión Americana de Ferrocarriles (ARU), encabezada por Eugene V. Debs, permitió que las mujeres estuvieran en sus filas, y esos miembros fueron participantes motivados y efectivos en la huelga de Pullman. Una semana después, el Chicago Tribune, informó que "las chicas de la tienda están tomando la parte más activa y en realidad están logrando más … que los hombres. También son más entusiastas y están decididos a permanecer fuera de las tiendas hasta que lleven su punto".
Una joven costurera de las tiendas Pullman, Jennie Curtis, se desempeñó como presidenta del Girls' Union Local No. 269. Su impacto en la  huelga se convirtió en una leyenda de Pullman. Su discurso exagerado pero apasionado, convenció a los miembros de la ARU de apoyar un boicot a los trenes Pullman, que efectivamente expandió la huelga de Pullman en todo el país, ya que los trabajadores ferroviarios se negaron a tocar un tren con un vagón Pullman conectado a él. Y quizás lo más dañino para la reputación de Pullman, su carta describiendo los abusos que presenció en la sala de costura rompió cualquier ilusión sobre las condiciones de trabajo de las empleadas:
… el trato tiránico y abusivo que recibimos de nuestra capataz hizo que nuestros cuidados diarios fueran mucho más difíciles de soportar. Era una mujer que había cosido y vivido entre nosotros durante años, una, uno, pensarías, que tendría algo de compasión de nosotros cuando la pusieran en condiciones de hacerlo. Cuando el superintendente la puso encima como nuestra capataz, parecía deleitarse en mostrar su poder para lastimar a las niñas de todas las maneras posibles. A veces su conducta era casi insoportable… Cuando una trabajadora estaba enferma y pedía irse a casa durante el día, les decía a la cara que no estaban enfermas, que había que sacar los coches y que no podían regresar a casa. También tenía algunos favoritos en la habitación, a quienes les dio todo el mejor trabajo …
En el ferrocarril
En las tiendas Pullman, las asalariadas eran casi exclusivamente blancas, muchas de ellas inmigrantes europeas. Pero la compañía Pullman también fue uno de los mayores empleadores de trabajadores negros en el país. Esos trabajadores eran principalmente Pullman Porters, hombres elegantemente vestidos y altamente profesionales que prestaban servicio en los trenes que coincidían con la opulencia y la comodidad del vagón. Durante décadas, estos servicios fueron proporcionados solo por hombres negros, pero a principios de siglo, la compañía Pullman comenzó a ofrecer sirvientas en sus automóviles como un nivel adicional de lujo a los pasajeros.
Al igual que los porteadores, las sirvientas de Pullman eran negras, y su trabajo tenía vínculos incómodos con el trabajo de los esclavos. De hecho, como señala Theodore Kornweibel, Jr., la introducción de las sirvientas Pullman fue un retorno a un servicio similar ofrecido por las líneas ferroviarias durante los años anteriores a la guerra. "Al menos dos líneas anteriores a la guerra, Richmond & Danville y Philadelphia, Wilmington & Baltimore, asignaron sirvientas a los trenes de pasajeros, [mujeres esclavizadas] para el personal de los autos de las damas en la primera línea y probablemente liberaron a las mujeres negras para trabajar en coches cama para la segunda". Las sirvientas Pullman trabajaban en viajes de larga distancia y, al igual que sus contrapartes porteadoras, se esperaba que "mantuvieran ordenadas las habitaciones de los pasajeros, recogieran basura, rehicieran camas, repararan prendas y realizaran otros servicios personales". Se esperaba que las criadas dieran manicuras o peinados gratis siempre que el tiempo lo permitiera, y se les pagaba "menos de $ 80 al mes en la década de 1920".
Mientras que las sirvientas realizaban un trabajo similar al de los porteadores, sus luchas eran a menudo mayores. Ambas posiciones dependían de propinas para ganar un salario decente, pero como su clientela eran "mujeres, ancianos y enfermos", señala Kornweibel, las sirvientas ganaban menos que los porteadores, "que se codeaban con… empresarios, políticos, actores y estrellas del deporte".  Y cuando la Hermandad de Porteadores de Coches Cama estaba luchando por mejores condiciones, las sirvientas finalmente fueron eliminadas del nombre oficial a favor de que se unieran a las Damas Auxiliares, cuyos miembros eran en su mayoría esposas de porteadores. Como resultado, las necesidades de los porteadores tuvieron prioridad sobre las criadas en las negociaciones con la empresa.
Peor aún fue la posición de los limpiadores de vagones. Muchas mujeres negras encontraron trabajo limpiando los interiores de los vagones Pullman, "barriendo basura y basura; fregar pisos; desinfección de escupideras; limpieza de tolvas (inodoros); cepillado de asientos; lavado de ventanas; desempolvado de carpintería; limpiar alfombras a mano, de rodillas; y pulir superficies metálicas". Estos trabajos eran difíciles y pagaban poco, pero dado que las opciones de empleo eran limitadas para las mujeres negras, constituían la abrumadora mayoría de la fuerza laboral de limpieza de automóviles de la compañía Pullman en los patios de automóviles del sur.
Nuevo trabajo para la mujer moderna
A principios del siglo XX, más mujeres asumieron roles como empleadas, secretarias y vendedoras. Cuando la compañía instaló una nueva centralita a principios de la década de 1920, contrataron a un puñado de operadores telefónicos, que podían manejar colectivamente la impresionante cantidad de 850 llamadas al día. Por supuesto, junto con la mayoría de las industrias, los límites de género del trabajo se desmoronaron durante las guerras mundiales. La fábrica Pullman en Chicago pivotó para ayudar al esfuerzo de guerra, construyendo tropas y autos de hospital, así como aviones, tanques y proyectiles. Aquí, las mujeres intervinieron como soldadoras y remachadoras, y otros trabajos que los hombres habían dejado vacantes cuando fueron a luchar al extranjero.
Si bien la visión de Pullman puede haber sido crear un entorno donde el trabajo de las mujeres fuera únicamente doméstico y / o materno, sin él, la compañía Pullman probablemente no habría sobrevivido hasta el siglo XX, mucho menos durante más de un siglo. Tal vez sea apropiado e irónico, entonces, que desde la designación de Pullman como Monumento Nacional en 2015, el parque ha sido dirigido completamente por mujeres, y la Torre del Reloj de la Administración en el centro de los terrenos de la fábrica que durante mucho tiempo estuvo dominada por hombres ahora cuenta con un personal permanente exclusivamente femenino.
Traducido por Norberto Barreto Velázquez