Comparto este artículo del Adam Hochschild analizando la represión que sufrió el American Socialist Party durante la primera guerra mundial. Hochschild nos narra el crecimiento impresionante que experimentó el partido en los primeros años del siglo XX, convirtiéndole en una amenaza para el establisment estadounidense. La entrada de Estados Unidos a la gran guerra dio al Estado la excusa necesaria para perseguir a los socialistas encarcelándoles, negándole acceso a sus publicaciones al correo, presionando a quienes los apoyaban, etc. El ejemplo clásico, pero no el único caso, es del Eugene Debs quien fue condenado a diez años de cárcel en 1918. En palabras del autor, «Para cuando Debs murió en 1926, el partido que una vez había elegido a 33 legisladores estatales, 79 alcaldes y más de 1,000 miembros de  consejos de varias ciudades y otros funcionarios municipales había cerrado la mayoría de sus oficinas y se había quedado con menos de 10,000 miembros en todo el país.»
Dada la influencia de los socialistas en la reforma social, el autor se pregunta en un ejercicio contrafáctico, cuál habría sido el desarrollo de Estados Unidos si el Partido Socialista no hubiera sido destruido en la década de 1910. Hochschild juega con la idea de que fue la destrucción del Partido Socialista  lo que explica que hoy Estados Unidos sea el único país desarrollado que no cuente con un «un seguro de salud nacional», que sus ciudadanos inviertan miles de dólares en la educación universitaria de sus hijos y que aún en estados ricos como California miles de personas duerman en las calles.
Adam Hochschild enseña en la Graduate School of Journalism de la Universidad de California en Berkeley. Es autor de 11 libros, entre ellos Rebel Cinderella: From Rags to Riches to Radical, the Epic Journey of Rose Pastor Stokes (2020),  Spain in Our Hearts: Americans in the Spanish Civil War, 1936-1939 (2016), To End All Wars: A Story of Loyalty and Rebellion, 1914-1918  (2011) y  King Leopold's Ghost: A Story of Greed, Terror and Heroism in Colonial Africa  (2002).  Su libro más reciente es  American Midnight: The Great War, a Violent Peace, and Democracy's Forgotten.
---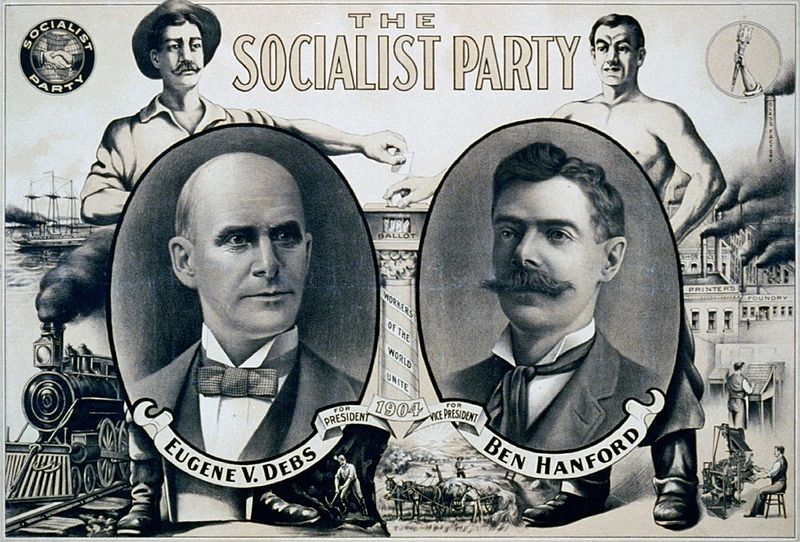 La destrucción  del socialismo estadounidense
TomDispatch    6 de octubre de 2022
Donald Trump ha tenido la necesidad de aplastar muchas cosas, incluyendo las últimas elecciones. Así que debo admitir que me pareció inquietantemente divertido que, cuando el FBI entró en su finca en Mar-a-Lago recientemente, lo hicieron bajo una orden autorizada por la Espionage Actde 1917. La historia ciertamente tiene una extraña forma de regresar a nuestro mundo y también de aplastar alternativas. Independientemente de lo que haya hecho Trump, ese acto tiene un historial lamentable tanto en su propio tiempo como en el nuestro cuando ha sido utilizado, incluso por su administración, para silenciar a los filtradores de información del gobierno. Y debido a que mi último libro, American Midnight: The Great War, A Violent Peace, and America's Forgotten Crisis, trata sobre el aplastamiento de alternativas hace un siglo en este país, en medio de todo esto, no pude evitar pensar en una parte de nuestra historia que The Donald sin duda habría sido el primero en aplastar,  si tuviera la oportunidad.
Pero permítanme comenzar con un evento personal más cercano al presente. Mientras visitaba Dinamarca recientemente, desarrollé una infección en mi mano y quería ver a un médico. El hotel en la ciudad provincial donde me alojaba me dirigió a un hospital local. Rápidamente me llevaron a una sala de consulta, donde una enfermera me interrogó y me dijo que esperara. Solo pasaron unos minutos antes de que un médico entrara en la habitación, me examinara y dijera en excelente inglés, sí, de hecho, necesitaba un antibiótico. Rápidamente giró en su silla, abrió un gabinete detrás de él, sacó una botella de píldoras, me la entregó y me dijo que tomara dos al día durante 10 días. Cuando le di las gracias y le pregunté a dónde debía ir para pagar la consulta y el medicamento, respondió simplemente: "No tenemos instalaciones para eso".
No hay facilidades para eso.
Es una frase que me vuelve cada vez que me recuerdan cómo, en la nación más rica del mundo, todavía no tenemos un seguro de salud nacional completo. Y eso está lejos de ser lo único que nos falta. En una multitud de formas, somos conocidos por tener una red de seguridad social mucho más débil que muchos otros países ricos y detrás de eso se encuentra una historia en la que la Espionage Act jugó un papel crucial.
Un amigo danés que me visitó recientemente se horrorizó al encontrar a cientos de personas sin hogar que vivían en campamentos de tiendas de campaña en Berkeley y Oakland, California. Y eso sí, este es un estado progresista y próspero. Los pobres son aún más propensos a caer a través de las grietas (o abismos) en muchos otros estados.
Los visitantes del extranjero se sorprenden de manera similar al descubrir que las familias estadounidenses pagan regularmente matrículas universitarias astronómicas de sus propios bolsillos. Y no solo los países europeos acomodados lo hacen mejor en proveer a sus ciudadanos. El costarricense promedio, con una sexta parte del ingreso anual per cápita de su contraparte estadounidense, vivirá dos años más, gracias en gran parte al sistema nacional integral de salud de ese país.
¿Por qué a nuestro país no le ha ido mejor, en comparación con tantos otros? Ciertamente hay muchas razones, entre ellas el incesante bombardeo de propaganda de décadas de la derecha estadounidense, que pinta cada fortalecimiento propuesto de la salud y el bienestar públicos, desde el seguro de desempleo hasta el Seguro Social, Medicare y Obamacare, como un paso siniestro en el camino hacia el socialismo.
Esto es una tontería, por supuesto, ya que la definición clásica de socialismo es la propiedad pública de los medios de producción, un tema de la agenda que no está en ningún horizonte político estadounidense imaginable. En otro sentido, sin embargo, la acusación es históricamente precisa porque, tanto aquí como en el extranjero, los avances significativos en salud y bienestar a menudo han sido encabezados por los partidos socialistas.
El primer sistema nacional de salud del mundo, en la Alemania Imperial, fue, por ejemplo, impulsado por el Reichstag por el canciller Otto von Bismarck en 1883 precisamente para flanquear a los socialistas alemanes, que durante mucho tiempo habían estado abogando por medidas similares. Tampoco fue sorprendente que el Servicio Nacional de Salud de Gran Bretaña fuera instalado por el Partido Laborista cuando tomó el poder después de la Segunda Guerra Mundial.
Y en los Estados Unidos, a principios del siglo pasado, algunos de los modestos movimientos del presidente Theodore Roosevelt para regular los negocios y romper los trusts fueron, de hecho, diseñados para robar una marcha a los socialistas de este país, a quienes temía, como escribió a un amigo, que fueran "mucho más siniestros que cualquier movimiento populista o similar en tiempos pasados".
En aquel entonces, por sorprendente que parezca hoy, el American Socialist Party era de hecho parte de nuestra realidad política y, en 1904, se había pronunciado a favor del seguro nacional de salud obligatorio. Una docena de años después de eso, el congresista socialista de Nueva York Meyer London presentó un proyecto de ley sorprendentemente similar a la Affordable Care Act de la administración Obama de más de un siglo después. En 1911, otro congresista socialista, Victor Berger de Wisconsin, propuso una pensión nacional de vejez, un objetivo que no se realizaría hasta dentro de otro cuarto de siglo con la aprobación de la Ley de Seguridad Social de 1935.
El socialismo nunca fue un movimiento tan fuerte en los Estados Unidos como en tantos otros países. Aún así, una vez fue al menos una fuerza a tener en cuenta. Los socialistas se convirtieron en alcaldes de ciudades tan dispares como Milwaukee, Pasadena, Schenectady y Toledo. Los miembros del partido ocuparon más de 175 cargos estatales y locales solo en Oklahoma. La gente comúnmente señala a 1912 como la marca de agua alta del partido. Ese año, su candidato a la presidencia, Eugene V. Debs, obtuvo el 6% del voto popular, incluso ganándole al candidato republicano en varios estados.
Aún así, el verdadero pico de la popularidad del socialismo estadounidense llegó unos años más tarde. El carismático Debs decidió no volver a postularse en 1916, aceptando erróneamente la promesa implícita del presidente Woodrow Wilson de mantener a los Estados Unidos fuera de la Primera Guerra Mundial, algo que a la mayoría de los socialistas les importaba apasionadamente. En abril de 1917, Wilson los enfureció al llevar al país a lo que había sido, hasta entonces, principalmente un conflicto europeo, mientras reprimía ferozmente a los disidentes que se oponían a su decisión. Ese otoño, sin embargo, los socialistas lograron avances impresionantes en las elecciones municipales, ganando más del 20% de los votos en 14 de las ciudades más grandes del país, más del 30% en varias de ellas, y 10 escaños en la Asamblea del Estado de Nueva York.
Durante esa campaña, Wilson estaba particularmente consternado por la popularidad del partido en la ciudad de Nueva York, donde el abogado socialista Morris Hillquit se postulaba para alcalde. El presidente le preguntó a su conservador fiscal general texano, Thomas Gregory, qué se podía hacer con las "declaraciones escandalosas" de Hillquit contra la guerra. Gregory respondió que temía que procesar a Hillquit "le permitiera hacerse pasar por un mártir y probablemente aumentaría su fuerza de voto. Estoy haciendo que mis representantes en la ciudad de Nueva York observen la situación con bastante cuidado, y si se llega a un punto en el que se pueda proceder contra él, me dará mucho placer". Hillquit perdió, pero obtuvo el 22% de los votos.
Los socialistas jubilosos sabían que si les iba igual de bien en las elecciones de mitad de período de 1918, su total de votos nacionales podría por primera vez aumentar a millones. Para Wilson, cuyos demócratas controlaban la Cámara de Representantes por el más estrecho de los márgenes, la posibilidad de que los socialistas obtuvieran el equilibrio de poder allí era horrible. Y así, ya en guerra en Europa, su administración en efecto declaró la guerra a los socialistas en casa también, utilizando como su herramienta principal la criminalización radical de Wilson de la disidencia, la nueva Espionage Actde 1917. El saldo sería devastador.
El hacha del gobierno cae
Ya la mujer más popular del partido, la ardiente oradora nacida en Kansas Kate Richards O'Hare, conocida como Red Kate por su política y su masa de cabello rojo, había sido condenada a cinco años bajo la Espionage Actpor hablar en contra de la guerra. Aún libre en apelación, O'Hare, que conocía las dificultades de la vida agrícola de primera mano y se había postulado tanto para la Cámara de Representantes como para el Senado, continuó atrayendo audiencias a miles cuando habló en los estados de las praderas. En poco tiempo, sin embargo, su apelación fue denegada y fue enviada a la penitenciaría de Jefferson City, Missouri, donde se encontró en la celda contigua a la anarquista Emma Goldman. Los dos se convertirían en amigas de por vida.
En 1918, el gobierno persiguió a Debs. El pretexto era un discurso que había dado desde un quiosco de música de un parque en Canton, Ohio, después de una convención estatal de su asediado partido. "Siempre les han enseñado que es su deber patriótico ir a la guerra y que ustedes mismos sean masacrados a sus órdenes", dijo a la multitud. "Pero en toda la historia del mundo, ustedes, el pueblo, nunca tuvieron voz para declarar la guerra".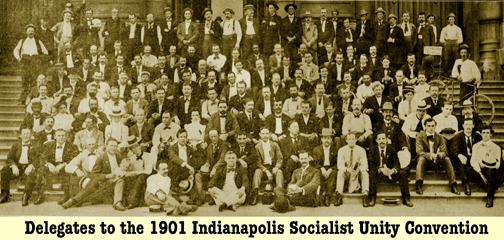 Eso fue más que suficiente. Dos semanas más tarde, fue acusado y llevado rápidamente ante un juez federal que resultó ser el ex socio del bufete de abogados del secretario de guerra del presidente Wilson. En ese juicio, Debs pronunció palabras que serían citadas durante mucho tiempo:
"Su Señoría, hace años reconocí mi parentesco con todos los seres vivos, y decidí que no era ni un poco mejor que el más malo de la tierra. Dije entonces, digo ahora, que si bien hay una clase baja, yo estoy en ella; si bien hay un elemento criminal, yo soy de él; mientras haya un alma en prisión, no soy libre".
Los espectadores jadearon cuando el juez pronunció sentencia contra el cuatro veces candidato presidencial: una multa de $ 10,000 y 10 años de prisión. En las elecciones de 1920, todavía estaría en la penitenciaría federal de Atlanta cuando recibió más de 900.000 votos para presidente.
Sin embargo, el gobierno no se limitó a procesar a luminarias como O'Hare y Debs. También persiguió a los miembros de base del partido, sin mencionar a los ex candidatos socialistas a gobernador en Minnesota, Nueva Jersey y Dakota del Sur, así como a los secretarios estatales del Partido Socialista de al menos cuatro estados y un ex candidato socialista al Congreso de Oklahoma. Casi todos ellos serían condenados en virtud de la Espionage Act por oponerse a la guerra o al reclutamiento.
No muy contento con esto, la administración Wilson también atacaría a los socialistas en muchos otros frentes. Había entonces más de 100 diarios, semanarios y mensuales socialistas y la Espionage Act le dio al director general de correos de Wilson, el segregacionista Albert Burleson de Texas, el poder de considerar tales publicaciones no debían ser enviadas por correo. En poco tiempo, Burleson prohibiría del correo prácticamente toda la prensa socialista, que, en los años anteriores a la guerra, tenía una circulación combinada de dos millones. Algunos diarios, que no necesitaban la Oficina de Correos para llegar a sus lectores, sobrevivieron, pero para la mayoría de ellos tal prohibición fue un golpe mortal.
El gobierno paralizó el movimiento socialista de muchas maneras menos formales también. Por ejemplo, la oficina de correos de Burleson simplemente dejó de entregar cartas hacia y desde la sede del partido en Chicago y algunas de sus oficinas estatales y locales. El personal de un periódico socialista en Milwaukee generalmente notó que no estaban recibiendo correspondencia comercial. Incluso sus suscripciones por correo al New York Times y al Chicago Tribune ya no llegaban. Pronto los ingresos publicitarios comenzaron a agotarse. En medio de esto, Oscar Ameringer, un escritor del periódico, llamó a un partidario de mucho tiempo, un panadero que de repente había dejado de comprar anuncios. Según Ameringer, el hombre "se desplomó en una silla, se cubrió los ojos y, con lágrimas corriendo por sus dedos, sollozó: 'Dios mío, no puedo evitarlo … Me dijeron que si no sacaba mi publicidad me rechazarían… harina, azúcar y carbón'".
También siguieron las señales de la administración en ese asalto en tiempos de guerra los políticos locales y los vigilantes que atacaron a los oradores socialistas o les negaron salas de reuniones. Después de que los progresistas y los miembros de los sindicatos organizaron una marcha contra la guerra en el Boston Common, por ejemplo, los vigilantes allanaron la oficina cercana del Partido Socialista, rompieron sus puertas y ventanas, y arrojaron muebles, papeles y la maleta de un activista viajero por las ventanas destrozadas a una hoguera.
En enero de 1918, el alcalde de Mitchell, Dakota del Sur, ordenó la disolución de la convención estatal del partido y la expulsión de todos los delegados de la ciudad. Un líder del partido fue capturado "en las calles por cinco hombres desconocidos y empujado a un automóvil en el que lo condujeron a cinco millas de la ciudad", informó un periódico local. "Allí fue puesto en la pradera y… le dijeron que se dirigieran a su casa en Parkston [una caminata de 18 millas] y le advirtieron que no regresara".
El gran "¿Y si?" Pregunta
Los socialistas estuvieron lejos de ser los únicos en sufrir la ola de represión que barrió el país en el segundo mandato de Wilson. Otros objetivos incluían el movimiento obrero, los dos pequeños partidos comunistas rivales del país y miles de radicales que nunca se habían convertido en ciudadanos estadounidenses y fueron objeto de deportación. Pero entre todas las víctimas, ninguna organización fue más influyente que el Partido Socialista. Y nunca se recuperó.
Cuando Debs volvió a salir a la carretera después de ser finalmente liberado de la prisión en 1921, a menudo, en el último minuto, se le negaron los lugares que había reservado. En Cleveland, el City Club canceló su invitación; en Los Ángeles, el único lugar donde podía hablar era en el zoológico de la ciudad. Aún así, lo tuvo más fácil que el escritor socialista Upton Sinclair quien, cuando comenzó a dar un discurso en San Pedro, California, en 1923, fue arrestado mientras leía la Primera Enmienda en voz alta.
Para cuando Debs murió en 1926, el partido que una vez había elegido a 33 legisladores estatales, 79 alcaldes y más de 1,000 miembros del consejo de la ciudad y otros funcionarios municipales había cerrado la mayoría de sus oficinas y se había quedado con menos de 10,000 miembros en todo el país. Kate Richards O'Hare escribió a su amiga Emma Goldman, que había sido deportada de los Estados Unidos en 1919, que se sentía una "especie de huérfana política ahora sin lugar para recostar mi cabeza".
A pesar de su condición de minoría, los socialistas habían sido una fuerza significativa en la política estadounidense antes de que la histeria de guerra patriótica provocara una era de represión. Hasta entonces, los legisladores republicanos y demócratas habían votado a favor de medidas de reforma de principios del siglo XX, como las leyes de trabajo infantil y el impuesto sobre la renta, en parte para evitar las demandas del Partido Socialista de cambios más grandes.
Si ese partido hubiera permanecido intacto en lugar de ser tan despiadadamente aplastado, ¿por qué más podrían haber votado? Este sigue siendo uno de los mayores "qué pasaría si" en la historia de Estados Unidos. Si el Partido Socialista no hubiera estado tan cojeando, ¿podría al menos haber empujado a los principales a crear el tipo de red de seguridad social y sistemas nacionales de seguro de salud más fuertes que la gente hoy da por sentado en países como Canadá o Dinamarca? Sin la Ley de Espionaje, ¿se podría haber dejado a Donald Trump pudrirse en Mar-a-Lago en un mundo en el que tanto podría haber sido diferente?
La última vez que intentó pagar una factura médica, ¿podría, de hecho, haberle dicho: "No tenemos instalaciones para eso"?
Traducido por Norberto Barreto Velázquez