Comparto esta nota de la historidora Heather Cox Richardson conmemorando los 56 años de la firma de la Voting Rights Act. Cox Richardson hace un excelente recuento del proceso que llevó a  la firma de esta histórica ley y de las amenazas actuales al derecho al voto de las minorías en Estados Unidos y, por ende, a la democracia estadounidense.
La Dr. Cox Richardson trabaja en Boston College y es autora, entre otros libros,   de To Make Men Free: A History of the Republican Party (2014). Es la creadora de una popular columna diara, Letters from America, analizando desde una perspectiva histórica la situación política y social estadounidense.
---
Heather Cox Richardson
6 de agosto de 2021
Hace hoy cincuenta y seis años, el 6 de agosto de 1965, el presidente Lyndon B. Johnson firmó la Ley de Derecho al Voto. La necesidad de la ley se explicó en su título completo: «Una ley para hacer cumplir la decimoquinta enmienda a la Constitución, y para otros fines».
A raíz de la Guerra Civil, los estadounidenses trataron de crear una nueva nación en la que la ley tratara a los hombres negros y a los hombres blancos como iguales. En 1865, ratificaron la Decimotercera Enmienda a la Constitución, prohibiendo la esclavitud excepto como castigo por crímenes. En 1868, ajustaron la Constitución de nuevo, garantizando que cualquier persona nacida o naturalizada en los Estados Unidos, excepto ciertos indígenas americanos, era un ciudadano, abriendo el sufragio a los hombres negros. En 1870, después de que los legisladores de Georgia expulsaran a sus colegas negros recién sentados, los estadounidenses defendieron el derecho de los hombres negros a votar añadiendo ese derecho a la Constitución.
Las tres enmiendas —la Decimotercera, La Decimocuarta y la Decimoquinta— le dieron al Congreso el poder de hacerlas cumplir. En 1870, el Congreso estableció el Departamento de Justicia para hacer precisamente eso. Los sureños blancos reaccionarios habían estado usando las leyes estatales, y la falta de voluntad de los jueces y jurados estatales para proteger a los estadounidenses negros de las pandillas blancas y los empleadores tramposos, para mantener a los negros subordinados. Los hombres blancos se organizaron como el Ku Klux Klan para aterrorizar a los hombres negros y evitar que ellos y sus aliados blancos votaran para cambiar ese sistema. En 1870, el gobierno federal intervino para proteger los derechos de los negros y procesar a los miembros del Ku Klux Klan.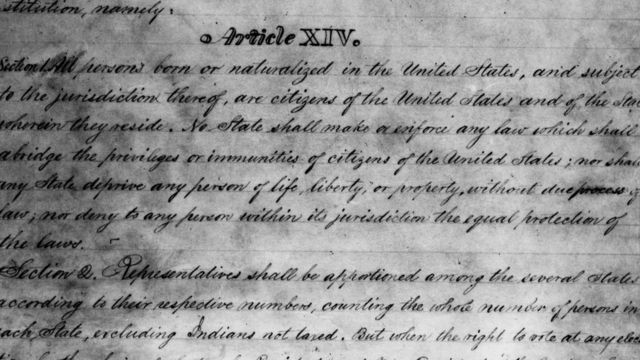 Con el poder federal ahora detrás de la protección constitucional de la igualdad, amenazando con la cárcel para aquellos que violaron la ley, los opositores blancos del voto negro cambiaron su argumento en contra.
En 1871, comenzaron a decir que no tenían ningún problema con que los hombres negros votaran por motivos raciales; su objeción al voto negro era que los hombres negros, sólo por esclavitud, eran pobres e incultos. Estaban votando por legisladores que les prometían servicios públicos como carreteras y escuelas, y que solo se podían pagar con impuestos.
La idea de que los votantes negros eran socialistas —de hecho, usaron ese término en 1871— significó que los norteños blancos que habían luchado para reemplazar la sociedad jerárquica del Viejo Sur con una sociedad basada en la igualdad comenzaron a cambiar su tono. Miraron hacia otro lado, ya que los hombres blancos impedieron que los hombres negros votaran, primero con el terrorismo y luego con las leyes electorales estatales que usaban cláusulas de abuelo, que recortaban a los hombres negros sin mencionar la raza al permitir que un hombre votara si su abuelo lo había hecho; pruebas de alfabetización en las que los registradores blancos pueden decidir quién aprueba; los impuestos electorales; y así sucesivamente. Los estados también redujeron los distritos de manera desigual para favorecer a los demócratas, que dirigían un partido segregacionista totalmente blanco. En 1880 el Sur era sólidamente demócrata, y lo seguiría siendo hasta 1964.
Los estados del sur siempre celebraron elecciones: solo se había previsto que los demócratas las ganarían.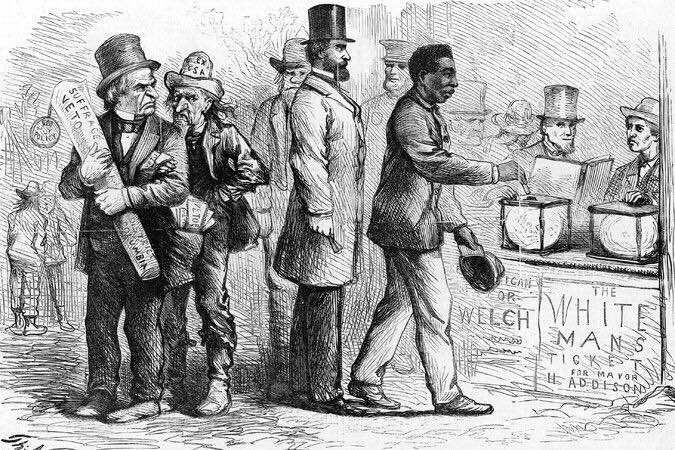 Los estadounidenses negros nunca aceptaron este estado de cosas, pero su oposición no ganó una poderosa atención nacional hasta después de la Segunda Guerra Mundial.
Durante esa guerra, los estadounidenses de todos los ámbitos de la vida habían enfocado en derrotar al fascismo, un sistema de gobierno basado en la idea de que algunas personas son mejores que otras. Los estadounidenses defendieron la democracia y, a pesar de todo lo que los estadounidenses negros lucharon en unidades segregadas, y que los disturbios raciales estallaron en ciudades de todo el país durante los años de guerra, y que el gobierno internó a los estadounidenses de origen japonés, los legisladores comenzaron a reconocer que la nación no podría definirse efectivamente como una democracia si las personas negras y marrones vivían en viviendas deficientes,  recibió una educación deficiente, no podía avanzar de los trabajos de poca importancia y no podía votar para cambiar ninguna de esas circunstancias.
Mientras tanto, los afroamericanos y las personas de color que habían luchado por la nación en el extranjero llevaron a casa su determinación de ser tratados por igual, especialmente a medida que el colapso financiero de los países europeos aflojó su control sobre sus antiguas colonias africanas y asiáticas, dando vida a nuevas naciones.
Aquellos interesados en promover los derechos de los negros recurrieron, una vez más, al gobierno federal para anular las leyes estatales discriminatorias. Estimulados por el abogado Thurgood Marshall, los jueces utilizaron la cláusula de debido proceso y la cláusula de igualdad de protección de la Decimocuarta Enmienda para argumentar que las protecciones en la Carta de Derechos se aplicaban a los estados, es decir, los estados no podían privar a ningún estadounidense de la igualdad. En 1954, la Corte Suprema bajo el presidente del Tribunal Supremo Earl Warren, el ex gobernador republicano de California, utilizó esta doctrina cuando dictó el caso Brown v. Decisión de la Junta de Educación que declara inconstitucionales las escuelas segregadas.
Los reaccionarios blancos respondieron con violencia, pero los afroamericanos continuaron defendiendo sus derechos. En 1957 y 1960, bajo la presión del presidente republicano Dwight Eisenhower, el Congreso aprobó leyes de derechos civiles diseñadas para facultar al gobierno federal para hacer cumplir las leyes que protegen el voto negro.
En 1961, el Comité Coordinador Estudiantil No Violento (SNCC) y el Consejo de Organizaciones Federadas (COFO) comenzaron esfuerzos intensivos para registrar a los votantes y organizar a las comunidades para apoyar el cambio político. Debido a que solo el 6,7% de los negros de Mississippi estaban registrados, MIssissippi se convirtió en un punto focal, y en el «Freedom Summer» de 1964, organizado bajo Bob Moses (quien falleció el 25 de julio de este año), los voluntarios se dispusieron a registrar a los votantes. El 21 de junio, miembros del Ku Klux Klan, al menos uno de los cuales era oficial de la ley, asesinaron a los organizadores James Chaney, Andrew Goodman y Michael Schwerner cerca de Filadelfia, Mississippi, y, cuando fueron descubiertos, se rieron de la idea de que serían castigados por los asesinatos.
Ese año, el Congreso aprobó la Ley de Derechos Civiles de 1964, que fortaleció los derechos de voto. El 7 de marzo de 1965, en Selma, Alabama, los manifestantes liderados por John Lewis (quien pasaría a servir 17 términos en el Congreso) se dirigieron a Montgomery para demostrar su deseo de votar. Los agentes del orden los detuvieron en el puente Edmund Pettus y los golpearon salvajemente.
El 15 de marzo, el presidente Johnson pidió al Congreso que aprobara una legislación que defendiera el derecho al voto de los estadounidenses. Así fue. Y en este día de 1965, la Ley del Derecho al Voto se convirtió en ley. Se convirtió en una parte tan fundamental de nuestro sistema legal que el Congreso lo reautorizó repetidamente, por amplios márgenes, tan recientemente como en 2006.
Pero en el 2013 en su decisión del caso Shelby County v. Holder, la Corte Suprema bajo el presidente del Tribunal Supremo John Roberts destripó la disposición de la ley que requiere que los estados con historiales de discriminación de votantes obtengan la aprobación del Departamento de Justicia antes de que cambien sus leyes de votación. Inmediatamente, las legislaturas de esos estados, ahora dominadas por los republicanos, comenzaron a aprobar medidas para suprimir el voto. Ahora, a raíz de las elecciones de 2020, los estados dominados por los republicanos han aumentado la tasa de supresión de votantes, y el 1 de julio de 2021, la Corte Suprema permitió dicha supresión con la decisión de Brnovich v. DNC.
Si se permite a los republicanos elegir quién votará en los estados, dominarán el país de la misma manera que los demócratas convirtieron el Sur en un estado de partido único después de la Guerra Civil. Alarmados por lo que equivaldrá a la pérdida de nuestra democracia, los demócratas están pidiendo que el gobierno federal proteja los derechos de voto.
Y, sin embargo, 2020 dejó muy claro que si los republicanos no pueden impedir que los demócratas voten, no podrán ganar las elecciones. Y así, los republicanos están insistiendo en que los estados por sí solos pueden determinar quién puede votar y que cualquier legislación federal es una extralimitación tiránica. Una encuesta reciente de Pew muestra que más de dos tercios de los votantes republicanos no creen que votar sea un derecho y creen que se puede limitar.
Y entonces, aquí estamos, en una crisis existencial sobre los derechos de voto y si son los estados o el gobierno federal los que deben decidirlos.
En este momento, hay dos importantes proyectos de ley de derechos de voto ante el Congreso. Los demócratas han introducido la Ley para el Pueblo, una medida radical que protege el derecho al voto, pone fin al gerrymandering partidista, detiene el flujo de efectivo a las elecciones y requiere nuevas pautas éticas para los legisladores. También han introducido la Ley de Derechos de Voto John Lewis, que se centra más estrechamente en el voto y restaura las protecciones proporcionadas en la Ley de Derechos de Voto de 1965.
Los senadores republicanos han anunciado su oposición a cualquier proyecto de ley de derechos de voto, por lo que cualquier ley que se apruebe tendrá que sortear el filibusterismo en el Senado, que no se puede romper sin 10 senadores republicanos. Los demócratas podrían romper el filibusterismo para un proyecto de ley de derechos de voto, pero los senadores Joe Manchin (D-WV) y Kyrsten Sinema (D-AZ) indicaron a principios de este verano que no apoyarían tal medida.
Y, sin embargo, hay señales de que un proyecto de ley de derechos de voto no está muerto. Los senadores demócratas han seguido trabajando para llegar a un proyecto de ley que pueda pasar por su partido, y no tiene sentido hacerlo si, al final, saben que no pueden convertirlo en una ley. «Todo el mundo está trabajando de buena fe en esto», dijo Manchin a Mike DeBonis del Washington Post. «Es la aportación de todos, no solo la mía, pero creo que la mía, tal vez… nos hizo a todos hablar y rodar en la dirección en la que teníamos que volver a lo básico», dijo.
Volver a lo básico es una muy buena idea. La idea básica de que no podemos tener igualdad ante la ley sin igualdad de acceso a la boleta electoral nos dio las Enmiendas Decimotercera, Decimocuarta y Decimoquinta a la Constitución, y estableció el poder del gobierno federal sobre los estados para hacerlas cumplir.
—-
Fuentes:
https://www.washingtonpost.com/politics/2021/06/08/how-is-john-lewis-voting-rights-act-different-hr-1/
https://www.ourdocuments.gov/doc.php
https://www.newsweek.com/only-third-republicans-think-voting-fundamental-right-poll-1612336
https://www.pewresearch.org/fact-tank/2021/07/22/wide-partisan-divide-on-whether-voting-is-a-fundamental-right-or-a-privilege-with-responsibilities/
https://cha.house.gov/report-voting-america-ensuring-free-and-fair-access-ballot
https://cha.house.gov/sites/democrats.cha.house.gov/files/2021_Voting%20in%20America_v5_web.pdf
https://www.washingtonpost.com/politics/democrats-craft-revised-voting-rights-bill-seeking-to-keep-hopes-alive-in-the-senate/2021/07/28/855b93fc-efc5-11eb-81d2-ffae0f931b8f_story.html
Traducido por Norberto Barreto Velázquez