En Estados Unidos se dedica el mes de febrero a conmemorar y celebrar la historia de los afroamericanos, tema que no es ajeno a esta bitacora. ¿Qué mejor manera de comenzar este mes que con un artículo que busca rescatar la profundidad de uno de los íconos del movimiento de los derechos civiles? En este escrito que comparto con mis lectores, la politóloga estadounidense Jeanne Theoharis nos recuerda que la labor y el legado de  Rosa Parks no se limitan a su desafío a la segregación racial de la transportación pública en la Alabama de los años 1950. La figura de Parks es mucho más grande que eso. Según la Dra. Theoharis, la Sra. Parks dedicó muchos años de su vida a luchar contra el racismo en  los estados del norte. También resalta sus simpatías con los Black Panthers y su admiración por Malcolm X. 
En otras palabras, Rosa Parks -como tambien el Dr. King- es un personaje mucho más complejo  del que los medios, los libros textos y los políticos usualmente proyectan en un esfuerzo de apropiación que busca diluir su mensaje y su ejemplo, y hacerlos así aceptables.
---
The New York Times   February 1, 2021 
Mug shot No. 7053 is one of the most iconic images of Rosa Parks. But the photo, often seen in museums and textbooks and on T-shirts and websites, isn't what it seems. Though it's regularly misattributed as such, it is not the mug shot taken at the time of Mrs. Parks's arrest in Montgomery, Ala., on Dec. 1, 1955, after she famously refused to give up her seat on a bus to a white passenger. It was, in fact, taken when she was arrested in February 1956 after she and 88 other "boycott leaders" were indicted by the city in an attempt to end the boycott. The confusion around the image reveals Americans' overconfidence in what we think we know about Mrs. Parks and about the civil rights movement.
Martin Luther King Jr. and Rosa Parks dominate the Civil Rights Movement chapters of elementary and high school textbooks and Black History Month celebrations. And yet much of what people learn about Mrs. Parks is narrow, distorted, or just plain wrong. In our collective understanding, she's trapped in a single moment on a long-ago Montgomery bus, too often cast as meek, tired, quiet and middle class. The boycott is seen as a natural outgrowth of her bus stand. It's inevitable, respectable and not disruptive.
But that's not who she was, and it's not how change actually works. "Over the years, I have been rebelling against second-class citizenship. It didn't begin when I was arrested," Mrs. Parks reminded interviewers time and again.
Born Feb. 4, 1913, she had been an activist for two decades before her bus stand — beginning with her work alongside Raymond Parks in 1931, whom she married the following year, to organize in defense of the "Scottsboro Boys" (nine Black teenagers who were falsely accused of raping two white women). Indeed, one of the issues that animated her six decades of activism was the injustice of the criminal justice system — wrongful accusations against Black men, disregard for Black women who had been sexually assaulted, and police brutality. With a small group of other activists, including E.D. Nixon, who would become branch president, she spent the decade before her well-known bus stand working to transform the Montgomery NAACP into a more activist chapter that focused on voter registration, criminal justice and desegregation. This was dangerous, tiring work and Mrs. Parks said it was "very difficult to keep going when all our work seemed to be in vain." But she persevered.
Dispirited by the lack of change and what she called the "complacency" of many peers, she reformed the NAACP Youth Council in 1954 and urged her young charges to take greater stands against segregation. When 15-year-old Claudette Colvin was arrested for refusing to give up her seat on a bus in March 1955, many Black Montgomerians were outraged by Mrs. Colvin's arrest, but some came to decide that the teenager was too feisty and emotional, and not the right test case. Mrs. Parks encouraged the young woman's membership in the Youth Council and was the only adult leader, according to Ms. Colvin, to stay in touch with her the summer after her arrest. Mrs. Parks put her hope in the spirit and militancy of young people.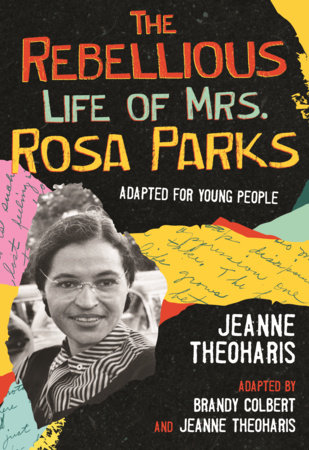 That evening on the bus, Mrs. Parks challenged the police officers arresting her: "Why do you push us around?" There are no photos from the arrest — no sense this would be a history-changing moment. But networks that had been built over years sprang into action late that night when Mrs. Parks decided to pursue her legal case and called Fred Gray, a young lawyer and fellow NAACP member, to represent her. Mr. Gray called the head of the Women's Political Council, Jo Ann Robinson, who decided to call for a one-day boycott on Monday, the day Mrs. Parks would be arraigned in court.
Braving danger, Ms. Robinson left her home in the middle of the night to run off 50,000 leaflets with the help of a colleague and two trusted students. In the early-morning hours, the women of the W.P.C. fanned out across the city, leaving the leaflets in churches, barbershops and schools. Mr. Nixon began calling the more political ministers to get them on board. Buoyed by the boycott's success that first day, the community decided to continue. The boycott succeeded in part because the Black community organized a massive car pool system, setting up some 40 pickup stations across town, serving about 30,000 riders a day, and in part because of a federal legal case challenging Montgomery's bus segregation that Mr. Gray filed in February with courageous teenagers, Ms. Colvin and Mary Louise Smith, serving as two of the four plaintiffs.
The boycott seriously disrupted city life and bus company revenues. Police harassed the car pools mercilessly, giving out hundreds of tickets — and then, when that didn't work, the city dredged up an old anti-syndicalism law and indicted 89 boycott leaders. Refusing to be cowed or to wait to be arrested, Mrs. Parks, along with others, presented herself to the police while scores of community members gathered outside. Mug shot No. 7053.
The Rosa Parks fable also erases the tremendous cost of her bus stand and the decade of suffering that ensued for the Parks family. They weren't well-off. The Parkses lived in the Cleveland Court projects, Mrs. Parks's husband, Raymond, working as a barber at Maxwell Air Force Base and Mrs. Parks spending her days in a stuffy back room at Montgomery Fair department store altering white men's suits. Five weeks after her bus stand, she lost her job; then Raymond lost his. Receiving regular death threats, they never found steady work in Montgomery again. Eight months after the boycott's successful end, the Parks family was forced to leave Montgomery for Detroit, where her brother and cousins lived. They continued to struggle to find work, and she was hospitalized to treat ulcers in 1959, which led to a bill she couldn't pay. It was not until 1966, 11 years after her bus arrest, after she was hired to work in U.S. Representative John Conyers's new Detroit office, that the Parks family registered an income comparable to what they'd made in 1955. (Mrs. Parks had supported Mr. Conyers's long-shot bid for Congress in 1964.)
Mrs. Parks spent the next several decades of her life fighting the racism of the North — "the Northern promised land that wasn't," she called it — marching and organizing against housing discrimination, school segregation, employment discrimination and police brutality. In July 1967, on the fourth day of the Detroit uprising, police killed three Black teenagers at the Algiers Motel. Justice against the officers proved elusive (ultimately none of them were punished for murder or conspiracy) and Detroit's newspapers grew reluctant to press the issue. At the request of young Black Power activists who refused to let these deaths go unmarked and the police misconduct be swept under the rug, Mrs. Parks agreed to serve as a juror on the "People's Tribunal" to make the facts of the case known.
"I don't believe in gradualism," she made clear, "or that whatever is to be done for the better should take forever to do." In the 1960s and '70s, she was part of a growing Black Power movement in the city and across the country. Describing Malcolm X as her personal hero, she attended the 1968 Black Power convention in Philadelphia in 1968 and the 1972 Gary Convention, worked for reparations and against the war in Vietnam, served on prisoner defense committees, and visited the Black Panthers' school in 1980. "Freedom fighters never retire," she observed at a testimonial for a friend — and she never did.
But this Rosa Parks is not the one most of us learned about in school or hear about during Black History Month commemorations. Instead, we partake in an American myth, as President George W. Bush put it after her death in 2005, that "one candle can light the darkness." A simple seamstress changes the course of history with a single act, decent people did the right thing and the nation inexorably moved toward justice. Mrs. Parks's decades of work challenging the racial injustice puts the lie to this narrative. The nation didn't move naturally toward justice. It had to be pushed.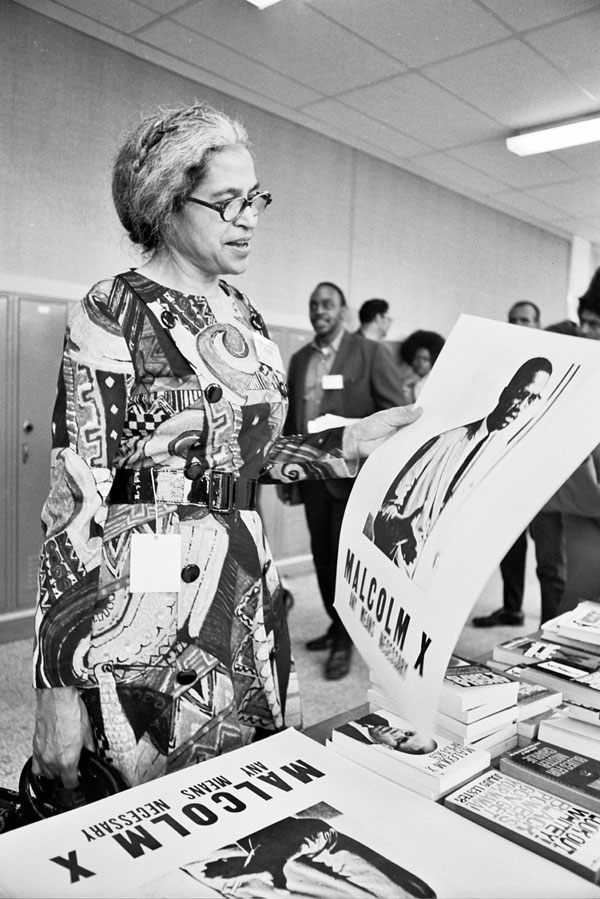 The boycott was a tremendous feat of organization that drew on networks built over years. Understanding the demonization, death threats and economic hardship Mrs. Parks endured for more than a decade underscores the costs of such heroism. Most Americans did not support the civil rights movement when it was happening; in a Gallup poll right before the March on Washington in 1963, only 23 percent of Americans who were familiar with the proposed march felt favorably toward it.
Reckoning with the fact that Mrs. Parks spent the second half of her life fighting the racism of the North demonstrates that racism was not some regional anachronism but a national cancer. And seeing how she placed her greatest hope in the militant spirit of young people (finding many adults "complacent") gives the lie to the ways commentators today have used the civil rights movement to chastise Black Lives Matter for not going about change the right way. Learning about the real Rosa Parks reveals how false those distinctions are, how criminal justice was key to her freedom dreams, how disruptive and persevering the movement, and where she would be standing today — an essential lesson young people, and indeed all Americans, need to understand to grapple honestly with this country's history and see the road forward.
Jeanne Theoharis is a professor of political science and the author of eleven books on the civil rights and Black Power movements including "The Rebellious Life of Mrs. Rosa Parks" and "The Rebellious Life of Mrs. Rosa Parks Young Readers' Edition," co-adapted with Brandy Colbert.