En esta reseña del libro de Matthew E. Stanley Grand Army of Labor: Workers, Veterans, and the Meaning of the Civil War, Dale Kretz nos presenta a la guerra civil estadounidense como  una conmoción revolucionaria que no solo aplastó la esclavitud, sino que también avivó la esperanza de una emancipación anticapitalista en los Estados Unidos.  Según Kretz, Stanley analiza cómo la inconografía y la discursiva  de la guerra civil sobreviven y son usados por la izquierda radical estadounidense hasta la guerra fría.
Dale Kretz es profesor de historia en el Departamento de Historia de la Universidad de California en Santa Barbara. Tanto su trabajo de investigación y su docencia se centran en la historia de los  afroamericanos. Es autor de Administering Freedom: The State of Emancipation after the Freedmen's Bureau (UNC Press, 2022).
Matthew E. Stanley es doctor en Historia por la Universidad de Cincinnati y profesor  en la Universidad Estatal de Albany (Albany, Georgia), donde imparte cursos sobre esclavitud, la guerra civil y la Reconstrucción. Es también autor de The Loyal West: War and Reunion in Middle America (University of Illinois Press, 2016).
---
El legado abolicionista de la Guerra Civil pertenece a la izquierda
Jacobin   April 6, 2022
Reseña del libro de  Matthew E. Stanley Grand Army of Labor: Workers, Veterans, and the Meaning of the Civil War (University of Illinois Press, 2021).
¿Cómo debemos recordar la Guerra Civil? Para muchos liberales de hoy, la historia es la del Norte ganando la guerra pero perdiendo la paz, consintiendo una reconciliación seccional que dejó intacta la supremacía blanca. El racismo ganó, simple y llanamente.
Pero esto es solo una parte de la historia. El declive precipitado de la afiliación sindical, la militancia laboral en el lugar de trabajo y los eruditos marxistas en la academia han conspirado para oscurecer lo que el historiador Matthew Stanley saca a la luz en su reciente libro: que la Guerra Civil, para los trabajadores blancos y negros por igual, fue una piedra de toque duradera para las luchas populares desde la Reconstrucción hasta el Nuevo Trato, dando forma a la conciencia de clase en el proceso.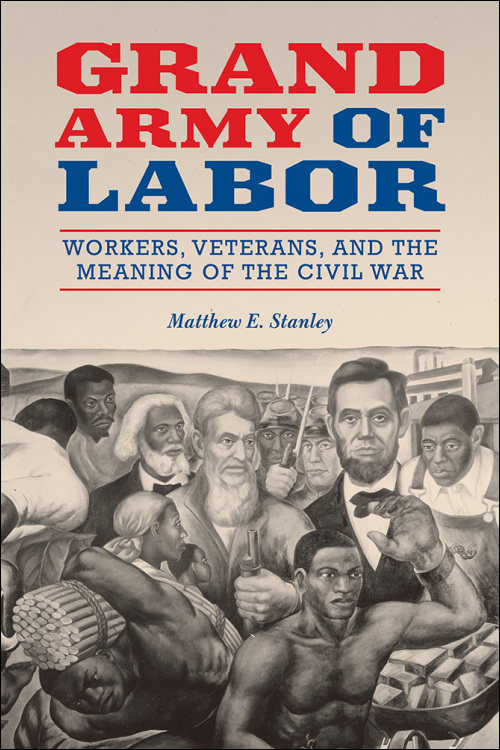 Grand Army of Labor: Workers, Veterans, and the Meaning of the Civil War muestra cómo los trabajadores industriales, los agricultores y los radicales desplegaron una "lengua vernácula antiesclavista" en sus luchas contra la Gilded Age y el capitalismo de la Era Progresista. Se presentaron a sí mismos como los portadores naturales de la antorcha del ideal del trabajo libre antes de la guerra, que, argumentaron, apuntaba no solo a la chattel slavery, sino también al trabajo asalariado, anunciando lo que Karl Marx imaginó como una "nueva era de emancipación del trabajo".
Stanley detalla la construcción colectiva de una "Guerra Civil roja", construida por trabajadores radicales en innumerables salas sindicales, pisos de talleres y cajas de jabón de terceros. En esta visión de tonos carmesí, John Brown, Frederick Douglass y Abraham Lincoln aparecieron como parangones del abolicionismo, la vanguardia de la "abolición-democracia" de W.E.B. Du Bois. Y aunque el Ejército de la Unión había aplastado a la aristocracia terrateniente del Poder esclavista, la expansión capitalista había generado nuevos intereses monetarios y creado nuevas formas de dominio corporativo. Ese despotismo exigía una nueva generación de emancipadores.
"La guerra dio un tipo de amo por otro"
Los Knight of Labor, una federación sindical fundada en 1869 que alcanzó un pico de 800,000 miembros a mediados de la década de 1880, fue una organización prominente que blandió el lenguaje de la Guerra Civil para luchar contra la "esclavitud asalariada". "La guerra dio un tipo de amo por otro", explicó un Caballero en una reunión de la Asociación Azul y Gris en 1886, "y la riqueza que una vez fue propiedad de los amos del Sur ha sido transferida a los monopolistas del Norte y se ha multiplicado por cien en poder, y ahora está esclavizando más que la guerra liberada". Los Caballeros abogaron por una alianza interracial basada en la clase para librar esta próxima etapa de la guerra por la emancipación. Demostraron ser notablemente hábiles para organizar a los sureños negros y convencer a sus homólogos blancos de la necesidad de ello.
En las décadas de 1880 y 1890, los partidos de reforma agraria como los Greenbackers y los Populistas movilizaron a los "productores" a través de líneas seccionales y raciales. Los veteranos fueron fundamentales para estas campañas. Pero las colaboraciones "Azul-Gris" en el Partido Populista evocaron algo muy diferente a las reuniones nacionalistas blancas de la época que a menudo tenían el mismo nombre bicromático; Dedicados en cambio a "causas aún no ganadas", como argumenta Stanley, los "trabajadores-veteranos radicales y sus camaradas usaron las palabras y heridas de la guerra para imaginar una alternativa de izquierda" de la clase productora liberada del yugo de la esclavitud económica.
Apropiadamente, mientras los populistas hablaban en dialecto neo-abolicionista, sus oponentes reciclaron viejos insultos que una vez lanzaron a sus antepasados anteriores a la guerra. Denunciados como jacobinos, socialistas y comunistas, muchos populistas, al menos por un tiempo, se deleitaron en salvar las "divisiones de tiempos de guerra a lo largo de las líneas de clase" mientras sus antagonistas agitaban la camisa sangrienta o lloraban por la Causa Perdida. Los populistas aprovecharon la memoria de la Guerra Civil para un tipo muy diferente de conmemoración, una "reconciliación basada en la oposición mutua a las élites, a las condiciones del capitalismo industrial o al sistema económico en general".
Mientras que el movimiento populista se extinguió a mediados de la década de 1890, el vocabulario antiesclavista perduró en otros proyectos basados en la clase. El Partido Socialista Americano, fundado en 1901, se basó en gran medida en la lengua vernácula antiesclavista. Los socialistas hablaron con frecuencia de la lucha de clases como un "conflicto incontenible" y una "crisis inminente". El líder socialista Eugene V. Debs cultivó una autoimagen como un segundo Gran Emancipador, un radical del Medio Oeste que prometió "organizar a los esclavos del capital para votar su propia emancipación". Preguntó: "¿Quién será el John Brown de la esclavitud asalariada?" y respondió en otra parte: "El Partido Socialista".
El reto de Gompers
Pero como muestra Stanley, la apropiación de la iconografía de la Guerra Civil por parte de la izquierda radical no pasó desapercibida. La represión del gobierno federal del radicalismo obrero y la política de izquierda durante y después de la Primera Guerra Mundial elevó una corriente "reformista" de la memoria de la Guerra Civil sobre la revolucionaria. La narrativa reformista valoraba el orden social, el legalismo y la lealtad al estado, arrebatando la imagen de Lincoln a los rojos y cubriéndolo con ropa patriótica.
La American Federation of Labor (AFL) desempeñó un papel de liderazgo en la reutilización de Lincoln. Stanley escribe que el presidente conservador de la AFL, Samuel Gompers, "concibió la Guerra Civil no como una etapa inclusiva de la inminente revolución proletaria, sino como un evento nostálgico de prueba nacional, rejuvenecimiento y armonía". Para Gompers, esto significaba no solo un equilibrio entre el trabajo y el capital, sino, lo que es igual de importante, entre los trabajadores blancos, con énfasis en los blancos, de todas las regiones del país. El sindicalismo artesanal que defendía excluía a los trabajadores negros en masa.
Atrás quedó el Lincoln que desafió los derechos de propiedad a gran escala con la confiscación no compensada en tiempos de guerra; Lincoln de la AFL defendió la conciliación, el compromiso y la curación. La lengua vernácula antiesclavista sufrió una desradicalización similar. La "emancipación" ahora señalaba una ruptura con el partidismo y la militancia laboral, un proceso incremental de reforma dentro del capitalismo guiado por el liderazgo obrero conservador. Quizás lo más perverso es que Lincoln fue elegido como el gran emancipador de los trabajadores blancos, con una retórica antiesclavista rediseñada para acomodar la segregación en el lugar de trabajo.
En resumen, la política de lealtad de la AFL —económica, patriótica y racial— asimiló el trabajo organizado en el cuerpo político estadounidense en términos conservadores.
La Guerra Civil Radical
Un recuerdo de la Guerra Civil radical siguió vivo.
En la década de 1930, la Guerra Civil roja floreció en la organización del Partido Comunista, particularmente con los sureños negros, que eran vistos como naturalmente hostiles a la clase dominante blanca. "Cuando los comunistas negros Hosea Hudson y Angelo Herndon compararon sus esfuerzos de organización con un abolicionismo restaurado que podría 'terminar el trabajo de liberar a los negros', los camaradas blancos estuvieron de acuerdo", escribe Stanley. Cuando James S. Allen, un historiador marxista de la Reconstrucción y editor del periódico del Partido Comunista, el Southern Worker, escribió una defensa de los Scottsboro Boys, "representó para muchos blancos del sur una amenaza reconstituida de carpetbagger". El propio Allen "vio al Partido Comunista como un medio para 'completar las tareas inconclusas de la Reconstrucción revolucionaria'".
La Guerra Fría finalmente diezmó a la izquierda obrera y con ella al ejemplo revolucionario anticapitalista y antirracista de la Guerra Civil. Pero el estudio exhaustivamente investigado e iluminador de Stanley revela cuán duradera ha sido la contrainsurgencia cultural de la memoria de la Guerra Civil. Como miles de activistas y organizadores sindicales habían insistido durante mucho tiempo, y como demasiados estadounidenses han olvidado hace mucho tiempo, la lucha de la década de 1860 nunca fue solo nacional o racial, sino sobre la liberación de todas las formas de despotismo. Fue un golpe a la supremacía blanca que anunció una emancipación más amplia, un golpe más devastador al dominio de la propiedad.
Para los socialistas de hoy, la historia de la Guerra Civil Americana puede ser nuevamente fuente de inspiración en la elaboración de una política anticapitalista y antirracista,  y de una lengua vernácula radical para la solidaridad y la transformación revolucionaria. La "Guerra Civil Roja" es nuestra.
Traducido por Norberto Barreto Velázquez