En este artículo publicado en la revista History Today, el historiador británico Noam Maggor resume y comenta las actitudes y políticas antimonopolísticas que se desarrollaron en Estados Unidos durante la llamada Gilded Age. Maggor considera que éstas podrían ayudar a la administración Biden a definir una política para enfrentar los nonopolios actuales, es decir, las llamadas Big Tech (Amazon, Apple, Google y Facebook
El Dr. Maggor es Senior Lecturer de historia de Estados Unidos en Queen Mary, University of London. Es autor de Brahmin Capitalism: Frontiers of Wealth and Populism in America's First Gilded Age (Harvard University Press, 2017).
---
Noam Maggor 
 History Today  Vol. 71 Núm. 9       septiembre 2021
En octubre de 2020, una investigación de 16 meses sobre 'Big Tech' por parte de los demócratas en la Cámara de Representantes de los Estados Unidos llegó a conclusiones inequívocas. Las principales empresas del sector, Amazon, Apple, Google y Facebook, originalmente consideradas como Davids, han surgido como los Goliat de Internet. Las «startups desvalidas que desafiaron el status quo», afirmó el informe de 449 páginas, «se han convertido en el tipo de monopolios que vimos por última vez en la era de los barones del petróleo y los magnates ferroviarios». En lugar de avanzar a la sociedad hacia nuevas fronteras de libertad y prosperidad, estas compañías han arrastrado a los Estados Unidos de regreso a la temida «Gilded Age» de finales del siglo 19, una época asociada con la corrupción corporativa y el poder sin límites de las grandes empresas. Al igual que sus predecesores, se afirma, los nuevos Goliat han abusado de su dominio del mercado. Han expulsado a los competidores del negocio, han comprado (en lugar de superar) a rivales potenciales y han intimidado a usuarios externos (desarrolladores de aplicaciones, minoristas independientes y pequeños productores) que dependen de sus plataformas.
Para abordar esto, los legisladores han pedido al Departamento de Justicia que reduzca el poder de mercado de los cuatro gigantes tecnológicos. Los recientes nombramientos del presidente Biden indican una determinación de seguir esta agenda. A medida que sus equipos judiciales y de asesoramiento económico se unen a los «nuevos brandeisianos» como Lina Khan y Tim Wu, profesores de derecho que han abrazado el manto del histórico cruzado antimonopolio Louis Brandeis, se está llevando a tomar medidas más agresivas.
El crecimiento ininterrumpido de los monopolios tecnológicos es el resultado del pensamiento legal que ganó fuerza en la década de 1970. Los teóricos legales de la llamada «Escuela de Chicago» reformularon el antimonopolio, el área de la ley relacionada con los monopolios, en torno a una concepción estrecha del «bienestar del consumidor». Forjada por economistas como Robert Bork y Richard Posner, esta doctrina se centró exclusivamente en si el poder de mercado se traducía en precios más altos para los consumidores. Si los precios se mantían bajos, argumentaron los defensores del libre mercado, era evidencia de que las grandes corporaciones beneficiaban al público. No se necesita ninguna acción legal. Bajo esta doctrina, una empresa como Amazon podría expandir su cuota de mercado siempre y cuando sus clientes disfrutaran de un mejor acceso a productos baratos. Este prisma económico inspiró una aplicación laxa de las leyes antimonopolio, incluso cuando las fusiones y adquisiciones han hecho que el capitalismo estadounidense esté cada vez más concentrado.
El informe ha provocado una conversación más amplia sobre los monopolios empresariales. Llama la atención sobre la mala interpretación de la Escuela de Chicago de los objetivos y la importancia de las leyes antimonopolio en la historia de los Estados Unidos. La ley antimonopolio nunca fue creada para satisfacer a los consumidores. Tampoco se trataba de las virtudes inherentes a los mercados competitivos. El antimonopolio tenía más que ver con el avance del bienestar de los productores estadounidenses (principalmente agricultores y pequeños fabricantes), no de los consumidores, y con los esfuerzos para contrarrestar las desigualdades de poder en una sociedad democrática. En el fondo, el antimonopolio siempre ha sido sobre la supremacía del Estado sobre los mercados y la capacidad del gobierno para disciplinar a las corporaciones privadas en nombre de las prioridades públicas.
Revolución ferroviaria
Arraigadas en una historia más larga de oposición al privilegio especial en la ley estadounidense, las controversias en torno a los monopolios se desarrollaron en el contexto de la revolución ferroviaria de finales del siglo 19. El kilometraje del ferrocarril en los Estados Unidos se duplicó en la década de 1870 y luego se duplicó nuevamente en la década de 1880. Al igual que los monopolios tecnológicos de hoy, las corporaciones ferroviarias llegaron a dominar los medios de comercio y comunicación. El objetivo de los antimonopolistas no era desmantelar esta infraestructura o dividirla en sus partes constituyentes, sino obtener un control democrático más efectivo sobre ella. Lo que indignó sobre todo a los antimonopolistas fueron las tarifas preferenciales que los ferrocarriles ofrecían a los cargadores de gran volumen sobre los más pequeños y a los cargadores de los principales centros de transporte sobre los menores.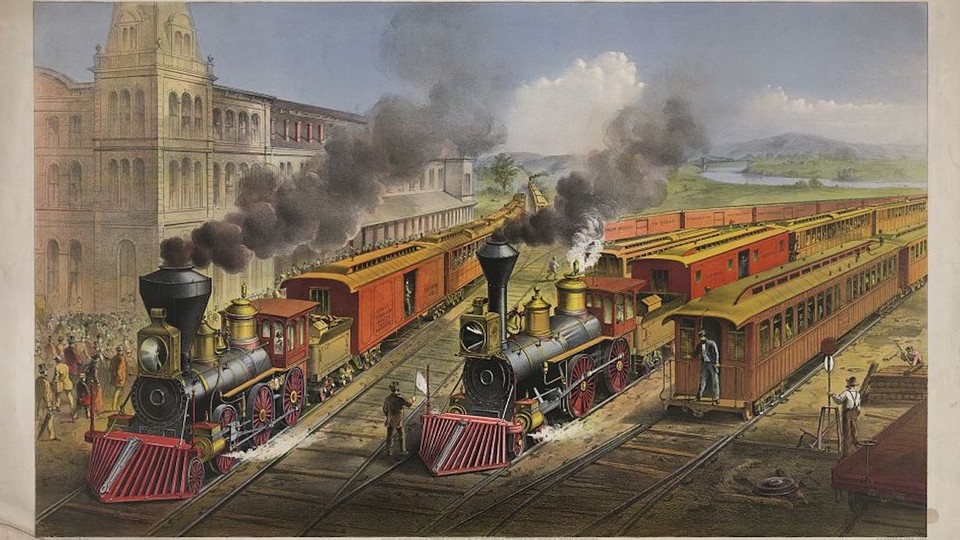 La lucha contra los monopolios se convirtió en un punto focal del conflicto político. Mientras que los antimonopolistas atacaban las prácticas corporativas como discriminatorias y perjudiciales, muchos expertos veían a los monopolios como heraldos del progreso económico. Economistas como Arthur Hadley y comentaristas como Charles Francis Adams Jr. explicaron al público que las políticas corporativas eran racionales y eficientes. Argumentaron que las «leyes» económicas inmutables hacían que las estructuras de tarifas diferenciadas, según lo dictado por los ferrocarriles, fueran necesarias y deseables. Los votantes, particularmente las circunscripciones rurales en el Medio Oeste, rechazaron esta lógica y contraatachaban. En particular, en 1874, los estados fronterizos de Iowa, Illinois, Wisconsin y Minnesota promulgaron lo que se conoció como «Leyes Granger», llamadas así por la organización de agricultores más importante de la época, creando comisiones ferroviarias estatales. Estos fueron facultados para supervisar la industria y tomar el control sobre el establecimiento de los cargos de flete.
En formas que siguen siendo relevantes, la legislación de Granger no simplemente protegía a los agricultores contra las tarifas de envío exorbitadas con el objetivo de darles acceso barato a los mercados. También desafió el poder de las compañías ferroviarias, en virtud de su control sobre la infraestructura esencial, para dictar los términos del compromiso económico para todos. Los defensores de los monopolios ferroviarios argumentaron que la supervisión gubernamental equivalía a una confiscación irracional de la propiedad privada, con consecuencias potencialmente desastrosas. Sin embargo, en 1876, en un triunfo para los antimonopolistas, la Corte Suprema confirmó estas leyes en la decisión de Munn v.Illinois. El fallo sancionó la regulación gubernamental de las corporaciones privadas cuyo poder abrumador sobre la vida económica «las vestía con el interés público».
¡Petróleo!
La tormenta de fuego sobre la Standard Oil de John D. Rockefeller, que creció hasta controlar el 90 por ciento del mercado estadounidense de petróleo refinado, compartió muchas de las mismas características. Una vez más, el bienestar del consumidor no fue un factor. Bajo el control de Rockefeller, el precio del petróleo disminuyó en más del 50 por ciento. Los estudiosos han debatido durante mucho tiempo el secreto de su éxito. Los relatos favorables, incluido el del historiador de negocios Alfred D. Chandler, lo han elegido como un visionario de los negocios, enfatizando sus eficientes instalaciones de refinación de petróleo y sus métodos de gestión superiores. Han narrado la consolidación empresarial como un paso evolutivo necesario, impulsado por las nuevas tecnologías. Las evaluaciones más críticas, de los economistas Elizabeth Granitz y Benjamin Klein, han demostrado que fue la agresiva adquisición de rivales comerciales por parte de Rockefeller lo que explicó su ascenso.
Enfrentando desafíos en su estado natal de Ohio, donde los tribunales amenazaron con revocar la carta corporativa de Standard Oil, Rockefeller se reincorporó bajo los estatutos menos estrictos de Nueva Jersey. La ley finalmente lo alcanzó en la Corte Suprema de los Estados Unidos en 1911, cuando se le ordenó disolver su gigante en 35 compañías separadas. Armado con la Ley Sherman Antimonopolio, aprobada por el Congreso en 1890, la Corte notó el «dominio» de Standard Oil sobre el mercado. Nunca cuestionando la eficiencia de las operaciones de la compañía, el Presidente del Tribunal Supremo Edward D. White se centró en «una intención y propósito … expulsar a los demás del campo y excluirlos de su derecho al comercio».
Roosevelt vs. Wilson
Las elecciones presidenciales de 1912 llevaron el debate a un clímax. Theodore Roosevelt, durante sus mandatos anteriores en el cargo entre 1901 y 1909, había sido el primer presidente en hacer uso de la Ley Sherman y se ganó una reputación exagerada como un «trustbuster». Roosevelt nunca desafió seriamente lo que veía como una tendencia inevitable hacia la concentración industrial. Su uso de la defensa de la competencia tenía como objetivo simplemente eliminar las peores formas de corrupción y abuso. Postulándose como reformador en 1912, su agenda antimonopolio, conocida como el «Nuevo Nacionalismo», permitió que se reanudara la consolidación corporativa, siempre y cuando estuviera bajo la supervisión del ejecutivo federal.
La candidatura demócrata de Woodrow Wilson era más ambiciosa. Su «Nueva Libertad», moldeada por la fuerte base del partido en el oeste agrario y el sur, aspiraba a dispersar el poder económico. Los demócratas abogaron por una versión vigorosamente aplicada de la Ley Sherman, con multas y penas de cárcel para los infractores. El triunfo de Wilson llevó a la aprobación de la Ley Clayton (reforzando la Ley Sherman) y la formación de la Comisión Federal de Comercio.
La economía corporativa tembló pero no colapsó. La campaña contra Standard Oil fue seguida por enjuiciamientos de American Tobacco y el productor químico DuPont. El Departamento de Justicia demandó al productor de aluminio Alcoa y a US Steel en casos que continuaron en la década de 1920. El efecto de estas confrontaciones no fue desmantelar las estructuras corporativas, sino poner a tales entidades bajo la autoridad disciplinadora del gobierno. Bajo la amenaza de procedimientos antimonopolio, por ejemplo, los reguladores obligaron a corporaciones como Bell Telephone Laboratories, con grandes carteras de patentes, a licenciar su propiedad intelectual a precios justos, o incluso sin costo alguno. Las corporaciones se vieron obligadas a compartir conocimientos con los competidores de manera que facilitaron la innovación.
La historia de los Estados Unidos demuestra los efectos políticos y de desarrollo ampliamente beneficiosos de las políticas antimonopolio, marcándolas como uno de los instrumentos más cruciales del arte de gobernar estadounidense. Con el tiempo, la defensa de la competencia dio a las autoridades públicas influencia sobre las fuerzas corporativas, llevó la política democrática al mercado, facilitó la creación y difusión de nuevas tecnologías y fomentó el surgimiento de una base económica más diversa y geográficamente dispersa. Los debates antimonopolio de hoy tienen un parecido sorprendente con estas batallas anteriores. Al igual que los monopolios ferroviarios y petroleros del pasado, los cuatro leviatanes tecnológicos no son simplemente líderes en la producción de bienes particulares. Son, más bien, controladores de recursos estratégicos e infraestructura en el centro de nuestra vida social, política y económica. Como en el pasado, se puede esperar que estas empresas celebren su capacidad para ofrecer buenos servicios a precios baratos, lo que en gran medida sería preciso. También explicarán que su poder se deriva de las nuevas tecnologías como la Internet: combatirlas sería luchar contra el propio progreso. Pero, como los legisladores estadounidenses entendieron hace mucho tiempo, el poder de vigilar la entrada en el mercado y elegir ganadores y perdedores, fomentar ciertos sectores de la economía sobre otros, o decidir dónde canalizar el dinero, son prerrogativas profundamente políticas que pertenecen más propiamente al Estado. El antimonopolio ha demostrado ser una forma crítica de asegurarse de que sigan siéndolo.
Traducido por Norberto Barreto Velázquez