Los Archivos Nacionales (NARA) son el principal repositorio documental de los Estados Unidos. Creada en 1934 por una ley del Congreso, NARA es una institución independiente encargada de la preservación y documentación de los registros gubernamentales e históricos del gobierno estadounidense. Entre sus tareas está aumentar el acceso público a los documentos que resguarda. Para ello han recurrido a diversas estrategias a lo largo de su historia.  Una de ellas ha sido digitalizar y compartir documentos a través de su página web.
Comparto con mis lectores esta interesante y muy bien ilustrada nota, adaptada de las publicaciones de Rachel Bartgis en en el blog de NARA, Pieces of History. Acompañan a este trabajo imágenes de documentos digitalizados sobre el uso de esclavos por las fuerzas confederadas durante la guerra civil.
---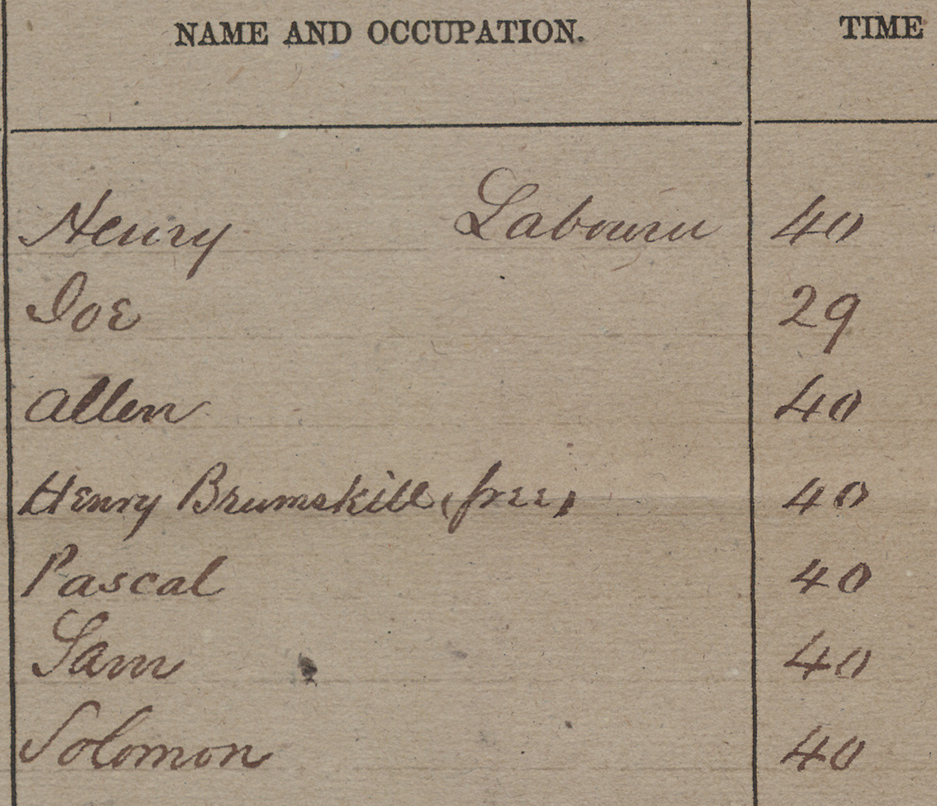 Durante la guerra civil estadounidense, el ejército confederado requirió que los esclavizadores prestaran a sus esclavos a los militares. A lo largo de la Confederación, desde Florida hasta Virginia, estas personas esclavizadas sirvieron como cocineras y lavanderas, trabajaron en condiciones letales para extraer nitrato de potasio necesario crear pólvora, trabajaron en fábricas de artillería y cavaron las extensas redes de trincheras defensivas que defendían ciudades como Petersburg, Virginia.
Para rastrear esta extensa red de miles de personas esclavizadas y el pago que sus esclavizadores recibieron por su arrendamiento, el Departamento de Intendencia Confederado creó la serie de registros ahora llamada «Nóminas de Esclavos Confederados». Esta serie está totalmente digitalizada y disponible para ver en el Catálogo de archivos nacionales.
Antes de la Guerra Civil, Moses Hunt era un trabajador de campo en una plantación llamada White Hill, que ahora está parcialmente protegida en el límite moderno del Campo de Batalla Nacional de Petersburgo. La Confederate Slave Payroll 1099» muestra que Charles Friend contrató a Moses y a otro hombre llamado Henry para construir movimientos de tierra en Williamsburg en la primavera de 1862.
Inusual entre estas «nóminas de esclavos confederados», Ashley Ferry Nitre Works, Charleston Nitre Works y Nitre Works District No. 4 emplearon a mujeres esclavizadas como trabajadoras. Durante la guerra civil, la fabricación de pólvora se convirtió en una seria preocupación para la Confederación. Una de las formas en que la Confederación adquirió nitrato de potasio, un elemento crítico de la pólvora, fue a través de la creación de «lechos nitre», grandes pozos rectangulares llenos de estiércol podrido y paja y cubiertos semanalmente con orina y líquido de privados y fosas sépticas. Las personas empleadas por la Confederación para hacer este trabajo nocivo eran esclavos. Aprende más sobre las mujeres esclavizadas de las Obras Confederadas de Nitre en el
blog Pieces of History.
Puede ver la serie completa de «Nóminas de esclavos confederados» en el Catálogo de lo Archivos Nacionales:National Archives Identifier 719477
Muchas gracias a Rachel Bartgis, técnica conservadora de los Archivos Nacionales en College Park, Maryland. Esta nota fue adaptada de las publicaciones de Rachel en el Pieces of History blog: 
Obtenga más información sobre las «Nóminas de esclavos confederados» en el artículo de Victoria Macchi publicado en el National Archives News, titulado  "Confederate Slave Payrolls Shed Light on Lives of 19th-Century African American Families."
Traducción Norberto Barreto Velázquez